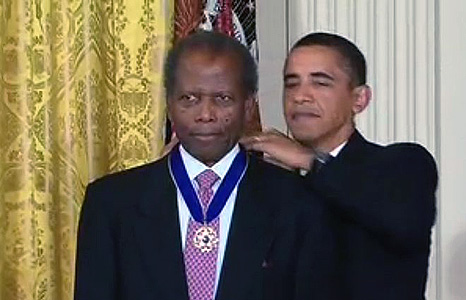 Groundbreaking actor Sidney Poitier celebrates his 86th birthday today. Born to Bahamian parents in Miami, Fla., while they were selling produce from their island farm, Poitier began life in humble working-class circumstances, which he never forgot. But through a unique combination of talent, tenacity, intelligence, hard work and a touch of good luck, he is now considered a legend in his own time, particularly for breaking down Hollywood's version of Jim Crow racism.
"Poitier was to Hollywood what Jackie Robinson was to major league baseball: simply put, the man who broke the color barrier," writes All Movie Guide writer Jason Ankeny. "An actor, director, and producer, he forever altered the racial perceptions long held by both motion picture audiences and executives, rising to superstar status in an industry forever dominated on both sides of the camera by whites while becoming the first African-American ever to take home an Oscar for Best Actor" for his role in Lilies of the Field.
Best known for To Sir, with Love; In the Heat of the Night; and Guess Who's Coming to Dinner, three films that were both critically acclaimed and box office successes, Poitier ranks among the American Film Institute's top 25 Greatest Male Stars of All Time.
Poitier grew up on Cat Island in The Bahamas, and moved to Miami at the age of 15 to live with his brother. At the age of 17, he moved to New York City and held a string of jobs as a dishwasher. He later joined the United States Army, serving as a medical assistant in World War II. His first acting breakthrough came with a role in the American Negro Theater production of Lysistrata.
Poitier elegantly combined his extraordinary talents as an actor with his commitment to the struggle for civil rights, equality and dignity for all Black Americans. He marched with Martin Luther King Jr., and fellow artists like Ossie Davis, Harry Belafonte and Paul Newman, in the historic 1963 March on Washington for Jobs and Freedom. Films he starred in, like The Defiant Ones and Raisin in the Sun, were often social commentaries on racism while Poitier infused his roles with a "cool boil," always eloquent and dignified.
As Aram Goudsouzian, author of "Sidney Poitier," writes, "If Sidney Poitier had an acting trademark, it was the cool boil. In the movies, when injustice drove him to the brink, he became a pot of outrage on the verge of bubbling over. His eyes would blaze. His mahogany skin would tighten. His words would gush out in spasms of angry eloquence, carefully measured by grim, simmering pauses."
They may have called him Mr. Tibbs in the 1967 film In the Heat of the Night, but in 1974 he became a Knight Commander of the Order of the British Empire with the official title (not just film title) "Sir." In 2009, President Barack Obama awarded Poitier the Presidential Medal of Freedom, the top U.S. honor for civilians.
Photo: Sidney Poitier receives the Presidential Medal of Freedom Award from President Obama, Aug. 12, 2009. (CC/White House)