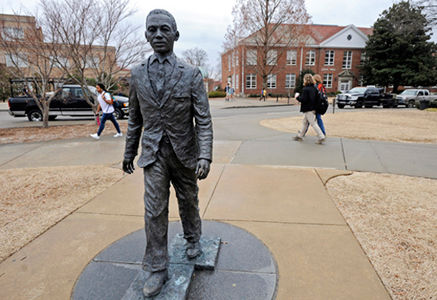 On this date in 1963, 30-year-old James Meredith became the first African-American student to graduate from the University of Mississippi (Ole Miss), with a degree in political science.
An Air Force veteran of African-American, British Canadian, Scots and Choctaw heritage, Meredith attended Jackson State University for two years, achieving good grades. In 1962 he became the first African-American student admitted to the segregated Ole Miss. Inspired by President John F. Kennedy's inaugural address, Meredith decided to exercise his constitutional rights and apply to Ole Miss, thereby pressuring the Kennedy administration to enforce civil rights for African Americans.
In 1961 he started his application. Meredith wrote that he wanted admission for his country, race, family, and himself. He said, "Nobody handpicked me…. I believed, and believe now, that I have a Divine Responsibility…. I am familiar with the probable difficulties involved in such a move as I am undertaking and I am fully prepared to pursue it all the way to a degree from the University of Mississippi."
Twice denied admission, he filed suit in the U.S. District Court for the Southern District of Mississippi, alleging that the university had rejected him only because of his race. The U.S. Court of Appeals for the Fifth Circuit ruled that Meredith had the right to be admitted, and the Supreme Court upheld the ruling.
On September 13, 1962, the District Court entered an injunction directing the university Board of Trustees and officials to register Meredith. Ross Barnett, Democratic governor of Mississippi, declared that "no school will be integrated in Mississippi while I am your governor." On September 28, the Court of Appeals found the governor in civil contempt and ordered that he be arrested and pay a fine of $10,000 for each day that he kept up the refusal, unless he complied by October 2. On September 29, Lieut. Gov. Paul B. Johnson, Jr. was found in contempt, and a similar order was entered against him, with a fine of $5,000 a day.
U.S. Attorney General Robert F. Kennedy had a series of phone calls with Gov. Barnett between September 27 and October 1. Barnett reluctantly agreed to let Meredith enroll. On September 29, Pres. Kennedy issued a proclamation commanding all persons engaged in the obstruction of the laws and the orders of the courts to peaceably comply, citing his authority to use the militia or the armed forces to suppress any insurrection, domestic violence, unlawful combination, or conspiracy.
Gov. Barnett had committed to RFK that he would maintain civil order, but by secret agreement to help Barnett save face, RFK ordered 500 U.S. marshals to accompany Meredith during his arrival and registration.
Whites opposing integration gathered at the campus. On the evening of September 29, a riot broke out, and the Kennedy administration ordered the nationalized Mississippi National Guard and federal troops to the campus. In the violent clashes that followed, two men were killed by gunshot wounds, and the white mob burned cars, pelted federal marshals with rocks, bricks and small arms fire, and damaged university property.
On October 1, 1962, after troops took control, Meredith became the first African American student to enroll at the University of Mississippi. His admission was a pivotal moment in the history of civil rights. He persisted through constant harassment and extreme isolation until he graduated the following year.
In 1966 Meredith planned a solo 220-mile March Against Fear from Memphis, Tenn. to Jackson, highlighting continuing racism in the South and encouraging voter registration after passage of the Voting Rights Act of 1965. On his second day, he was shot by a white gunman and suffered numerous wounds. But the march continued in his name as he lay recovering. Ultimately 15,000 more people from across the country became involved, in what was the largest civil rights march in the state, during which more than 4,000 African Americans registered to vote.
In 1966, his memoir "Three Years in Mississippi" was released by the Indiana University Press. He has also published several books on politics and society. He lives in Jackson, Miss.
Ole Miss has several times publicly commemorated Meredith's integration of the institution. A statue on campus honors him. The Lyceum-The Circle Historic District at the center of the campus has been designated as a National Historic Landmark for his role.
Adapted from Wikipedia.
Photo: Remaining racial tension: This past February, a noose and an old Georgia flag that included the Confederate battle emblem were found draped on the Meredith statue at the University of Mississippi. AP