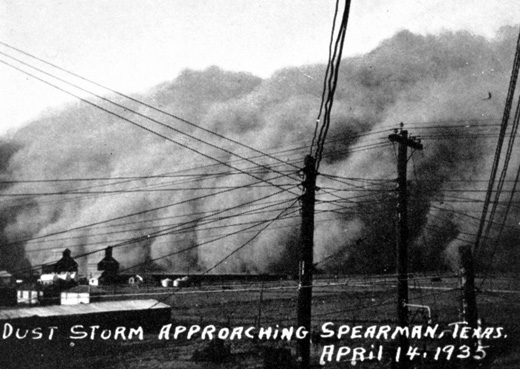 On April 14, 1935, The "Black Sunday Storm," one of the worst dust storms in U.S. history, caused immense economic and agricultural damage
The conditions were the most severe in the Texas and Oklahoma panhandles, but the storm's effects were felt in other surrounding areas.
The storm was harsh due to the high winds that hit the area that day. Along with the drought, erosion, and the unanchored soil, the winds caused the dust to fly freely and at high speeds
The "Dust Bowl" of the 1930s at first claimed western Kansas, eastern Colorado, northeastern New Mexico, and the Oklahoma and Texas panhandles. By 1934 dust storms had reached The Great Plains, stretching from North Dakota to Texas, and from the Mississippi River Valley to the Rocky Mountains.
In 1935, after the massive damage caused by these storms, Congress passed the Soil Conservation Act, which established the Soil Conservation Service (SCS) as a permanent agency of the USDA. The SCS was created in an attempt to provide guidance for land owners and land users to reduce soil erosion, improve forest and field land and conserve and develop natural resources.
The destruction caused by the dust storms, and especially by the storm on Black Sunday, caused hundreds of thousands of people to relocate. Poor migrants from the American Southwest flooded California.
On this same date in 1939, John Steinbeck's novel, "The Grapes of Wrath," was first published. The novel focuses on the Joads, a poor family of tenant farmers driven from their Oklahoma home by drought, economic hardship, agricultural industry changes and bank foreclosures forcing tenant farmers out of work. Due to their nearly hopeless situation, and in part because they were trapped in the Dust Bowl, the Joads set out for California. Along with thousands of other "Okies", they sought jobs, land, dignity, and a future.
The book won the National Book Award and Pulitzer Prize for fiction, and it was cited prominently when he won the Nobel Prize in 1962.
The film "Grapes of Wrath," based on the novel came out in 1940.
Here is an oft repeated quote from Tom Joad:
"I'll be all around in the dark. I'll be everywhere. Wherever you can look, wherever there's a fight, so hungry people can eat, I'll be there. Wherever there's a cop beatin' up a guy, I'll be there. I'll be in the way guys yell when they're mad. I'll be in the way kids laugh when they're hungry and they know supper's ready, and when the people are eatin' the stuff they raise and livin' in the houses they build, I'll be there, too."
Photo: This image is in the public domain. It contains materials that originally came from the U.S. National Oceanic and Atmospheric Administration. Wikimedia commons.