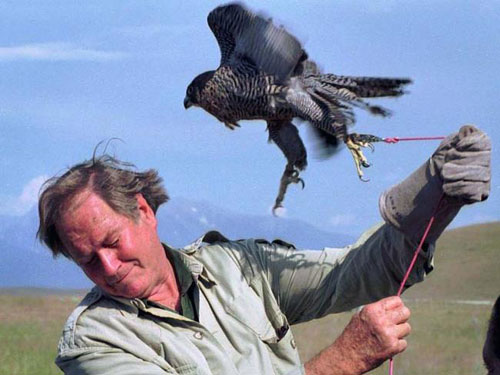 Naturalist Jim Fowler was born today. Fowler was part of the groundbreaking wildlife television show called "Mutual of Omaha's Wild Kingdom" from 1963-1988. He along with co-host and zoologist Marlin Perkins brought early wildlife education into the homes of millions with the show.
According to Georgia Encyclopedia:
James Fowler was born near Albany, Ga., on April 9, 1930. The son of a soil scientist, Fowler grew up on Mud Creek Plantation, the family farm near Albany, and in Falls Church, Virginia, where he frequented the nearby Four Mile Run stream. (As an adult, Fowler participated in efforts to revitalize the stream.) His childhood experiences in both places convinced him early in life to become a naturalist.
During the early 1950s he earned degrees in zoology and geology from Earlham College in Richmond, Ind., and then worked in Florida at a raptor sanctuary and in Africa as an animal trainer for a film production. Fowler began graduate work, taking on a research project in Brazil to study the harpy, the world's largest eagle, along the Amazon River. But when the opportunity for a television career developed, he gave up his academic ambitions.
Fowler appeared on NBC's "Today" show in 1961 to talk about harpy eagles. Marlin Perkins, the well-respected director of several major American zoos, saw Fowler on that show and invited him to co-host the pilot for "Wild Kingdom." The show debuted in January 1963 on NBC. "Wild Kingdom" was filmed at locations all over the world and featured Fowler and Perkins interacting with wild animals in their natural habitats. Over the next 23 years of original productions, the show engaged millions of viewers in the natural drama of the wild, winning more than forty major awards, including four Emmys.
Fowler's mission as a naturalist includes educating the public about wildlife species throughout the world and preserving the environments in which the animals live.
Quotes attributed to him include:
"The continued existence of wildlife and wilderness is important to the quality of life of humans. Our challenge for the future is that we realize we are very much a part of the earth's ecosystem, and we must learn to respect and live according to the basic biological laws of nature."
"Almost all of the social tragedies occurring around the world today are caused by ignoring the basic biological laws of nature … The quicker we humans learn that saving open space and wildlife is critical to our welfare and quality of life, maybe we'll start thinking of doing something about it."
Fowler's approach to wildlife conservation and education has drawn criticism from some scientists and animal rights groups, who claim that his sensationalized interactions with wild animals, including bringing them into television studios, are harmful to the animals and misleading to the public. Fowler counters such objections with the argument that the public must connect directly with animals before it will respond to the plight of habitat loss and other forms of environmental degradation. According to Fowler, "We need to make arguments for saving wildlife by how it will benefit us."
Fowler continues to travel around the country educating people about wildlife conservation. He is married to Betsey Fowler, a wildlife artist, and has two children.
Photo: Jim Fowler holds a peregrine falcon at the National Bison Range near Missoula, Montana, in 1998 (via Georgia Encyclopedia).