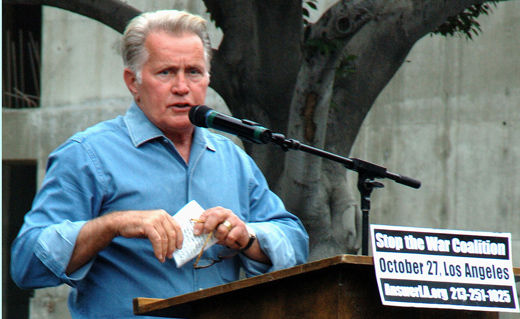 On this date in 1940, Ramón Antonio Gerardo Estévez, better known by his stage name Martin Sheen, was born in Dayton, Ohio, of immigrant parents from Spain and Ireland.
Sheen has appeared in films since 1967, starring roles on long-running television series, and provided narration for dozens of documentary films. His fame derives almost as much for his social activism as for his acting.
The films Badlands (1973) and Apocalypse Now (1979) brought him a large audience. Other notable films include Gettysburg (1993), The Departed (2006), and The Amazing Spider-Man (2012).
Presidential and political roles have long studded Sheen's career: John F. Kennedy in the miniseries Kennedy – The Presidential Years; Attorney General Robert F. Kennedy in the TV special The Missiles of October; White House Chief of Staff A.J. McInnerney in The American President; White House Counsel John Dean in the mini-series Blind Ambition; the President in the Lori Loughlin-Chris Noth mini-series Medusa's Child; and most famously, fictional Democratic president Josiah "Jed" Bartlet in the acclaimed 1999-2006 television drama, The West Wing.
Sheen has won film festival awards, Golden Globe and two Screen Actors Guild awards, and an Emmy, and been nominated dozens of times. Although known as an actor, he also has directed one film, Cadence (1990), appearing alongside sons Charlie and Ramón. He has been married to Jnet Templeton since 1961; they are the parents of four children (Emilio, Ramón, Carlos/aka Charlie, and Renée), all of whom are actors, as is his younger brother Joe Estevez. He adopted the stage name Martin Sheen to help him gain acting parts.
Sheen moved to New York City in his early twenties, spending two years in the Living Theatre company. In New York he met the legendary radical Catholic activist Dorothy Day. Working with her Catholic Worker movement, he began his commitment to social justice. Years later he would play Peter Maurin, cofounder of the Catholic Worker Movement, in Entertaining Angels: The Dorothy Day Story.
In 1974, Sheen received an Emmy Award nomination for Best Actor in a television drama for his portrayal of Pvt. Eddie Slovik in "The Execution of Private Slovik." Based on an incident that occurred during World War II, it told the story of the only U.S. soldier to be executed for desertion since the American Civil War.
The committed social activist
In 2010, speaking to 18,000 young student activists, Martin Sheen explained, "While acting is what I do for a living, activism is what I do to stay alive."
Much of Sheen's activism derives from his strong religious and moral understanding. Aside from the Catholic Workers, he also credits the Marianists as an influence, as well as South African Archbishop Desmond Tutu. Though personally opposed to abortion, he does not oppose a woman's decisions. He is consistently pro-life also against the death penalty and war.
Among his many causes is opposition to U.S. military actions. In early 2003 Sheen signed the "Not in My Name" declaration opposing the invasion of Iraq, which appeared in The Nation. On August 28, 2005, he visited anti-Iraq War activist Cindy Sheehan at "Camp Casey," adjacent to President Bush's Texas ranch. Sheehan, whose son was killed in Iraq, had been demanding a meeting with the president. Sheen prayed with her and spoke to her supporters. He began his remarks by stating, "At least you've got the acting president of the United States," referring to his role on "The West Wing." Sheen is an honorary trustee of the Dayton International Peace Museum.
He supported the 1965 farm worker movement with César Chávez in Delano, Calif., and opposed a hazardous-waste incinerator in East Liverpool, Ohio. Other labor, immigrant rights and environmental concerns have been high on Sheen's agenda as well.
In 2004 Sheen campaigned for Democratic presidential candidate Howard Dean, and later campaigned for nominee John Kerry. In 2008, after initially backing New Mexico Gov. Bill Richardson, he supported Barack Obama.
In 2000, Sheen got involved in support of gun control after the National Shooting Sports Foundation hired his politically conservative brother, actor Joe Estevez, who sounds like Sheen, to do a voiceover for a pro-gunmaker commercial earlier in the year.
In March 2012, Sheen played attorney Theodore Olson in a performance of Dustin Lance Black's play, titled 8, a staged reenactment of the federal trial that overturned California's Prop 8 ban on same-sex marriage that was later broadcast on YouTube to raise money for the American Foundation for Equal Rights.
In a speech at Oxford University in 2009, Sheen admitted to having been arrested 66 times for protesting and acts of civil disobedience. He was described by one fellow activist as having "a rap sheet almost as long as his list of film credits."
Adapted from Wikipedia and other sources. Our PW writer Ed Rampell published "An Interview with Martin Sheen" in The Progressive in June 2015.
Photo: Sheen at an anti-war protest in 2007. | Wikipedia (CC)