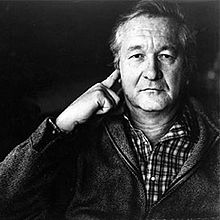 On this date in 1925, William Styron was born in Newport News, Va. Styron was best known for his novels, including Lie Down in Darkness (1951), The Confessions of Nat Turner (1967), a fictionalized memoir of the leader of an 1831 slave rebellion which drew upon the author's knowledge of Virginia, and Sophie's Choice (1979), a story about a non-Jewish Polish survivor of Auschwitz and her Jewish lover in postwar Brooklyn. Styron won both the National Book Award and the Pulitzer Prize for Literature, and in 1993 was awarded the National Medal of Arts.
His memoir Darkness Visible (1990) talked about his struggle with crippling depression, and became his best known work in later life.
Styron grew up in the South and was steeped in its history. His paternal grandparents had been slave owners, but his Northern mother and liberal Southern father gave him a broad perspective on race relations. He attended Davidson College and began reading writers such as Thomas Wolfe and William Faulkner who would have a lasting influence on him. He transferred to Duke University in 1943 as a part of a U.S. military program aimed at fast-tracking officer candidates in simultaneous basic training and bachelor's degree tracks. Though Styron was made a Marine lieutenant, the Japanese surrendered before his ship left San Francisco. He returned to Duke and completed his B.A. in English in 1947.
Lie Down in Darkness, the story of a dysfunctional Virginia family, received overwhelming critical acclaim. For this novel, Styron received the prestigious Rome Prize, awarded by the American Academy in Rome and the American Academy of Arts and Letters. However, his recall into the military due to the Korean War prevented him from immediately accepting it. Styron joined the Marine Corps, but was discharged in 1952 for eye problems. He transformed his experience at boot camp into a short novel, The Long March, which was adapted for TV on Playhouse 90 in 1958.
Styron spent the year 1953 in Europe. In Paris, he joined other American writers to found the literary magazine Paris Review, and he got to Italy to take advantage of his Rome Prize. In Rome he re-encountered a young poet, Rose Burgunder, whom he married. Styron's experiences during this period inspired his third published book, Set This House on Fire (1960), a novel about intellectual American expatriates in Italy.
Styron spent years researching and writing his next novel, the fictitious memoirs of the historical Nathaniel "Nat" Turner, a slave who led a rebellion in 1831. Styron's friend James Baldwin had fallen under criticism for his 1962 novel Another Country, which portrays a white woman protagonist in a story of her involvement with a black man. Baldwin read early drafts of Styron's new novel, and predicted that Styron's book would face even harsher scrutiny than Another Country.
Baldwin was correct. Styron had his defenders, including Baldwin and Ralph Ellison, but other black critics reviled Styron's portrayal of Turner as racist stereotyping. Particularly controversial was a passage in which Turner fantasizes about raping a white woman. Critics saw this as a dangerous perpetuation of a traditional Southern justification for lynching. Styron also wrote of a homosexual encounter between Turner and another slave boy in the woods. Despite the controversy, the novel was a runaway critical and financial success, and won both the 1968 Pulitzer Prize for Fiction, and the William Dean Howells Medal in 1970.
Styron's next novel, Sophie's Choice, also generated controversy, owing to his portrayal of a non-Jewish victim of the Holocaust and to its explicit sexuality and profanity. It won the 1980 National Book Award and was a nationwide bestseller. The 1982 film version was nominated for five Academy Awards, with Meryl Streep winning for Best Actress as Sophie. In 2002 an opera with libretto and music by Nicholas Maw based on Sophie's Choice premiered at the Royal Opera House in Covent Garden, London.
Styron died at Martha's Vineyard, Mass., on Nov. 1, 2006.
"I thought there's something to be said for honor in this world where there doesn't seem to be any honor left. I thought that maybe happiness wasn't really anything more than the knowledge of a life well spent, in spite of whatever immediate discomfort you had to undergo, and that if a life well spent meant compromises and conciliations and reconciliations, and suffering at the hands of the person you love, well then better that than live without honor" (from Lie Down in Darkness).
Adapted from Wikipedia and other sources.
Photo: Wikimedia (CC)