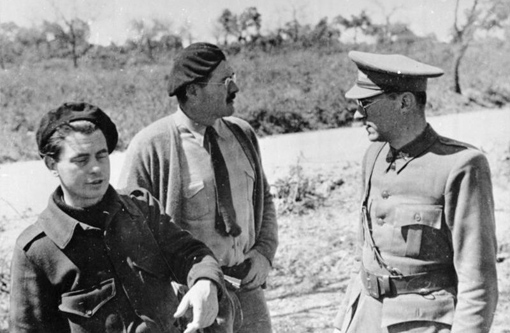 Ernest Hemingway (July 21, 1899 – July 2, 1961) was one of America's most popular authors. His economical style had a strong influence on 20th-century fiction. Hemingway produced most of his work between the mid-1920s and the mid-1950s, and won the Nobel Prize in Literature in 1954. He published seven novels, six short story collections, and two non-fiction works. Three more novels, four short story collections, and three non-fiction works were published posthumously. Many of his works are considered American classics.
Although often criticized for his vigorous hypermasculinism, with strains of homophobia and anti-Semitism in his writing, overall he identified with the progressive political tendencies of his time, and counted many writers and intellectuals on the left as colleagues and friends.
As an 18-year-old Hemingway left for the Italian front to enlist with the World War I ambulance drivers. In 1918, he was seriously wounded and returned home. His wartime experiences formed the basis for his 1929 novel A Farewell to Arms. "When you go to war as a boy you have a great illusion of immortality," Hemingway said of the incident. "Other people get killed; not you … Then when you are badly wounded the first time you lose that illusion and you know it can happen to you."
In 1921, now married – to the first of his eventual four wives – he moved to Paris, where he worked as a correspondent and joined the modernist writers and artists of the 1920s "Lost Generation" expatriate community. He published his first novel, The Sun Also Rises, in 1926, which many critics consider his best work. Its focus is the Spanish bullfighting culture.
During the Spanish Civil War (1936-39), Hemingway traveled to Spain as a journalist. Late in 1937, while in Madrid, Hemingway wrote his only play, The Fifth Column, as the city was being bombarded. He collaborated with composers Marc Blitzstein and Virgil Thomson, and filmmaker Joris Ivens, on a fundraising film for the Spanish Loyalists called The Spanish Earth. Back in Spain in 1938, he was present at the Battle of the Ebro, the last republican stand, and was among the last journalists to leave the battle as they crossed the river. In August 1939 Hemingway was one of 400 U.S. intellectuals who signed an open letter "To All Active Supporters of Democracy and Peace" which stated that "the reactionaries" had "encouraged the fantastic falsehood that the USSR and the totalitarian states are basically alike" and claimed that the USSR had "shown a steadily expanding democracy in every sphere."
After the Spanish war ended he wrote For Whom the Bell Tolls (1940), which became a Book-of-the-Month Club choice, sold half a million copies within months, and helped to revive the author's literary reputation.
In 1939, Hemingway crossed in his boat from his home in Key West to Cuba. With his soon-to-be new wife Martha Gellhorn, he rented "Finca Vigia" (Lookout Farm), a 15-acre property 15 miles from Havana. He later purchased it for his winter residence. It became notorious for the dozens of cats he allowed to roam and breed there.
Hemingway was in London during World War II, present at the Normandy landings and the 1944 liberation of Paris.
Shortly after the publication of The Old Man and the Sea (1952), set in Cuba, which won him the Pulitzer Prize, Hemingway went on safari to Africa, where he was almost killed in two successive plane crashes that left him in pain or ill health for much of his remaining life.
After the Revolution Hemingway remained on easy terms with the government, telling the New York Times he was "delighted" with Castro's overthrow of dictator Fulgencio Batista. He famously went out on fishing excursions with Fidel Castro. In July 1960, the Hemingways left Cuba for the last time, leaving art and manuscripts in a bank vault in Havana. After the 1961 Bay of Pigs Invasion, in accordance with the policy of nationalizing American property in Cuba, the Finca Vigia was expropriated by the Cuban government, complete with Hemingway's collection of several thousand books. The Finca is a popular tourist site today. The Cuban government has in recent years made arrangements with American academic institutions to photocopy Hemingway's Cuban papers and make them available to scholars.
In 1959, he had bought a house in Ketchum, Idaho, where, still racked with pain and depression, he committed suicide in 1961.
Adapted from Wikipedia and other sources.
Photo: Hemingway (center) with Dutch filmmaker Joris Ivens and German writer Ludwig Renn (serving as an International Brigades officer) in Spain during Spanish Civil War, 1937. | Wikimedia (CC)