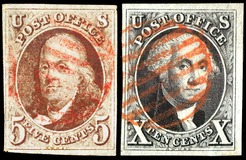 On this date in 1847, the Post Office Department (now called the U.S. Postal Service), issued its first two U.S. postage stamps, a 5-center featuring Benjamin Franklin (the first postmaster of the U.S.), and the 10-cent stamp with our first president, George Washington. They were issued on pregummed, nonperforated sheets, from which clerks used scissors to cut out each stamp.
The first postage stamps in the world had been issued seven years previously (May 6, 1840) in Great Britain.
Stamps had been issued by private postal services in the U.S. prior to 1847. Letters were taken to a post office, where the postmaster would note the postage in the upper right corner. The postage rate was based on the number of sheets in the letter and the distance it would travel. Postage could be paid in advance by the writer, collected from the addressee on delivery, or paid partially in advance and partially upon delivery.
Alexander M. Greig's City Despatch Post, a private New York City carrier, issued the first adhesive stamps in the U.S. in 1842. The Post Office Department bought Greig's business and continued use of adhesive stamps to prepay postage.
After 1847, private postal services were still used for a short time, until the national postal system kicked into full gear, with other denominations and more specific purposes, such as special delivery.
So what does it mean?
One of the constant drumbeats of "free enterprise" ideology in the U.S. is the preference for private business to perform all social functions, and to keep "government" out of any realm where profit could be made. Historians often cite colonial-era fire insurance as a good example of why this predilection, carried to an extreme, does not work: A homeowner had to buy individual fire insurance, so if your neighbor's house was burning down and it was uninsured, too bad. But too bad for you too, because the fire could well ignite your home as well. Thus, publicly-supported "fire departments" were tasked with fire control in the public interest.
In that same sense, the issuance of a unified, nationally recognized set of postage stamps in 1847 was an important step, visible on an almost daily basis, toward making society function in an efficient, rational manner for the good of all.
Hard-line free-enterprisers to this day are working overtime with their think tanks, academic defenders and media propagandists to "privatize" many social functions that we have long accepted as part of the common responsibility of all. Well known examples include education, housing, prisons, public libraries, and even the military, where privately hired "contractors" have taken the place of enlisted soldiers, not just for supplying the troops but for actual fighting.
This "anarchy of private production" leaves workers in such occupations unprotected by union membership, health protection, racial, gender and other discrimination, retirement and pensions, and other benefits.
For years the private sector has trained its sights specifically on the U.S. Postal Service, attempting with every instrument it can lay its hands on to monetize the delivery of the mail and make it profitable. This would entail the decimation of the postal workers' unions (among the largest in the country), reduction of service, and loss of daily, personal contact with postal customers in their homes. Legislators have already passed numerous measures to try and bankrupt the Postal Service, for example by requiring that it prepay retirement and other future costs for almost a century in advance, a policy unheard of in any other business.
People's World writer and union activist John Dick has eloquently addressed some of these issues in our columns.
Adapted from the U.S. Postal Service and other sources.
Photo: Wikimedia (CC)