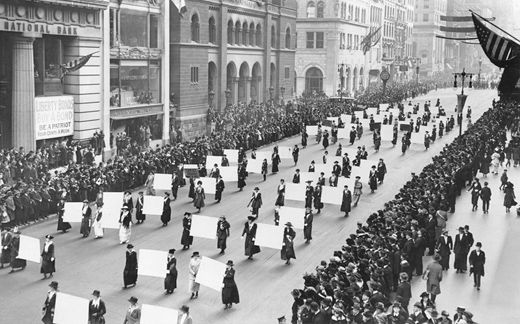 On this day 95 years ago, in 1920, after a 72-year struggle, women in the United States won the right to vote with ratification of the 19th Amendment to the Constitution. The constitutional amendment had first been introduced in 1878.
Women's Equality Day is proclaimed each year by the president to commemorate this democratic advance. Every president has published a proclamation for Women's Equality Day since 1972, the year after legislation was first introduced in Congress by New York Democratic Rep. Bella Abzug.
The full text of the resolution is as follows:
WHEREAS, the women of the United States have been treated as second-class citizens and have not been entitled the full rights and privileges, public or private, legal or institutional, which are available to male citizens of the United States; and
WHEREAS, the women of the United States have united to assure that these rights and privileges are available to all citizens equally regardless of sex;
WHEREAS, the women of the United States have designated Aug. 26, the anniversary date of the passage of the Nineteenth Amendment, as symbol of the continued fight for equal rights: and
WHEREAS, the women of United States are to be commended and supported in their organizations and activities,
NOW, THEREFORE, BE IT RESOLVED, the Senate and House of Representatives of the United States of America in Congress assembled, that Aug. 26 of each year is designated as "Women's Equality Day," and the President is authorized and requested to issue a proclamation annually in commemoration of that day in 1920, on which the women of America were first given the right to vote, and that day in 1970, on which a nationwide demonstration for women's rights took place.
Some further thoughts
It's interesting, looking back on this 1971 resolution, that strong as its language is, even now, only women (in paragraph two) are given credit for uniting to assure women's rights. Certainly the women's suffrage movement had allies among mass organizations who need to be remembered; and by 1920 there were already a number of states where women legally voted.
In paragraph five the resolution speaks of women "given the right to vote," as if that prolonged struggle had not been won at great cost and sacrifice. The "national demonstration for women's rights" in 1970 marked the 50th anniversary of the 19th Amendment.
Forty-five years later, with ultra-right Republicans dominant in Congress, we see daily attacks on women's rights, reproductive rights, voting rights and civil rights.
As the movement against Portuguese colonialism taught us, A luta continua. The struggle continues.
Adapted from Wikipedia.
Photo: Wikipedia (CC)