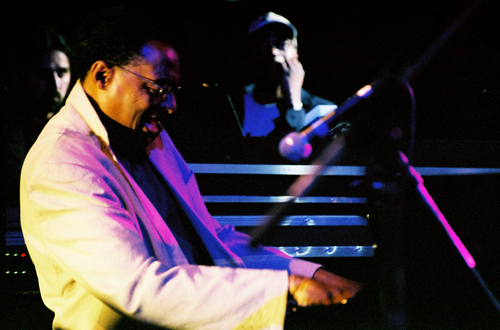 Ramsey Lewis, iconic leader in the contemporary jazz movement for 60 years, was born on May 27, 1935. A happy belated 80th birthday!
Part of the milestone celebration this year, on Saturday, August 8, will be the world premiere of his Concerto for Jazz Trio and Orchestra at the Ravinia Festival in Highland Park, with Scott Hall conducting the Chicago Symphony Orchestra. As the composer, Ramsey Lewis will be on piano, with Ramsey Lewis & Friends and the James Memorial Church Sanctuary Choir under William Kilgore, minister of music. Lewis has a long-established relationship with Ravinia: Since 1992 he has served as artistic director for its jazz series, he was elected a trustee in 2002, and lifetime trustee in 2010.
One of the nations' top jazz pianists, Lewis has a distinct sound and and outgoing personality that have allowed him to cross over to the pop and R&B charts. His trio has undergone numerous personnel shifts over the years. At one point he hired a new rhythm section with Cleveland Eaton on bass and Maurice White on drums. When White left the band to form Earth, Wind & Fire, Morris Jennings signed on as the trio's new percussionist. White returned to produce Lewis' smash album "Sun Goddess," in which Lewis first experimented with electronic keyboards and featured Earth, Wind & Fire.
As an NEA Jazz Master, Lewis has also joined forces with countless other artists to create innovative music. In 1984 he collaborated with Nancy Wilson on "The Two of Us"; in 1988 he recorded with the London Philharmonic Orchestra for the album "A Classic Encounter"; and in 1989, Lewis and Dr. Billy Taylor cut a set of piano duets in "We Meet Again." Other collaborators have included Grover Washington, Jr., Earl Klugh, and Dave Koz.
Lewis has recorded more than 80 albums to date, beginning with "Ramsey Lewis and the Gentlemen of Swing" in 1956, and has racked up an impressive catalogue of compositions. His "Proclamation of Hope," commissioned by Ravinia Festival to celebrate Abraham Lincoln's 200th birthday, premiered in 2009, and he wrote a dance score for the Joffrey Ballet in 2007.
Ramsey Lewis is a familiar on-air personality with long-running radio shows on WNUA in Chicago, and a nationwide syndication. He hosted an hour-long national PBS special entitled "The Jazz Masters" in 2005, and a weekly one-hour interview and performance program on "Jazz Central" for B.E.T. (Black Entertainment Television).
He has lectured and taught courses at several universities, and has won dozens of awards and honorary degrees. His jazz single "The In Crowd" (1965) was inducted into the Grammy Hall of Fame. Other Grammy Awards winner of his include "Hold It Right There" (19660 and "Hang on Sloopy" (1973). He has issued seven Gold Records, including "Wade in the Water" album/single (1966) and "Sun Goddess" (1976).
Additional distinctions have been his White House Performance at a state dinner President Bill Clinton held for President and Mrs. Fernando Henrique Cardoso of Brazil in 1995, and carrying the Winter 2002 Olympic Torch for the Ravinia segment during its journey to Salt Lake City.
Improvisation is of course, central to jazz. "I've learned the hard way to give the orchestra signposts as I'm improvising," he told Opera News magazine regarding his upcoming premiere in Chicago, "so they can count off, so the conductor can count the bars that I'm improvising, and it's up to me to make sure than my improvisation stays in that amount of bars, so then when we get to letter B, which is the end of my solo, and he gives the downstroke to the orchestra, we're all in accord."
See Ramsey Lewis and his trio playing "The In Crowd" here.
Adapted from Opera News (July 2015), http://www.ramseylewis.com, and Wikipedia.
Photo: Wikipedia (CC)