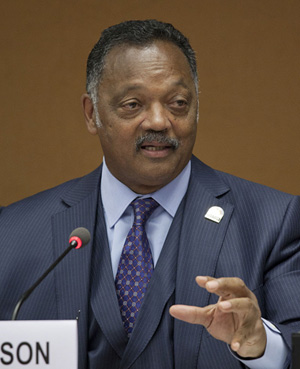 Reverend Jesse Jackson, Sr., born on this date in 1941 in Greenville, S.C., is an American civil rights activist, Baptist minister, politician, and columnist. He was a candidate for the Democratic presidential nomination in 1984 and 1988 and served as a "shadow" U.S. Senator for the District of Columbia (which is not a state) from 1991 to 1997. He founded People United to Save Humanity (PUSH – later renamed People United to Serve Humanity) and the Rainbow Coalition, which have merged to form Rainbow/PUSH.Operation PUSH pressured politicians and businesses to work to improve economic opportunities for blacks and poor people of all races.
In 1984, Jackson organized the Rainbow Coalition to run for president of the United States, aiming to bring together disparate strands of the broad people's movementsfor a change in the political direction of the country. On November 3, 1983, he announced his campaign, becoming the second African American (after Shirley Chisholm) to mount a nationwide campaign for president.
In the Democratic Party primaries, Jackson, who had been written off by pundits as a fringe candidate with little chance at winning the nomination, surprised many when he took third place behind Sen. Gary Hart and former Vice President Walter Mondale, who eventually won the nomination. Jackson garnered 18.2 percent of the total primary votes, winning a few primaries and caucuses, including Louisiana, the District of Columbia, and South Carolina.
In 1988, Jackson again sought the Democratic Party presidential nomination, now a more credible candidate, both better financed and better organized than in 1984. Speaking at a rally to protest a factory closing, he stated, "We have to put the focus on Kenosha, Wisconsin, as the place, here and now, where we draw the line to end economic violence!" and compared the workers' fight to that of the 1965 voting rights movement in Selma, Ala. As a result, UAW Local 72 voted to endorse his candidacy, even against the rules of the UAW. Jackson once again exceeded expectations as he more than doubled his previous results, capturing 6.9 million primary votes and winning 11 contests. In the end, Michael Dukakis won the nomination.
Running on a progressive platform inspired by the New Deal and the Great Society, and backed by his Rainbow Coalition, Jackson's proposals included:
Creating a Works Progress Administration-style program to rebuild America's infrastructure and provide jobs to all Americans.
Re-prioritizing the War on Drugs to focus less on mandatory minimum sentences for drug users (which he viewed as racially biased) and more on harsher punishments for money-laundering bankers and others who are part of the "supply" end of "supply and demand."
Reversing Reaganomics-inspired tax cuts for the richest 10 percent of Americans and using the money to finance social welfare programs.
Cutting the budget of the Department of Defense by as much as 15 percent over the course of his administration.
Declaring apartheid South Africa to be a rogue nation.
Instituting an immediate nuclear freeze and beginning disarmament negotiations with the Soviet Union.
Supporting family farmers by reviving many of the New Deal-era farm programs.
Creating a single-payer system of universal health care.
Ratifying the Equal Rights Amendment.
Increasing federal funding for lower-level public education and providing free community college to all.
Applying stricter enforcement of the Voting Rights Act.
And supporting the formation of a Palestinian state.
With the exception of a resolution to implement sanctions against apartheid South Africa, none of these positions made it into the Democratic Party platform.
Jackson has traveled extensively, often to help resolve international conflicts, facilitate prisoner releases, and call attention to burning issues. As someone who speaks his mind freely, he has not lived without controversy, but for the most part he has risen above his critics.
He also continues to write thoughtful opinion pieces for publication, still very much in the left-progressive vein articulated in his campaigns of the 1980s. The issues he raised then are still critical demands, many of them incorporated almost 30 years later into the current campaign by Sen. Bernie Sanders.
Adapted from Wikipedia and other sources.
Photo: Wikipedia (CC)