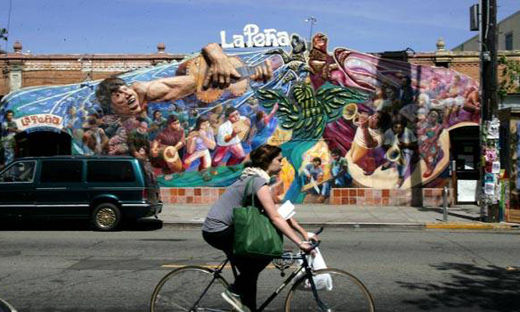 La Peña, the world-famous multicultural community center in Berkeley, Calif., was founded on this date in 1975. The center promotes peace, social justice and cultural understanding through the arts, education and social action. Artists there share diverse cultural traditions, create and perform their work, and support a variety of social movements. Annually, La Peña presents over 200 events with emerging and established artists.
La Peña Cultural Center, or La Peña for short, was started by two Chilean expatriates with some community support on Shattuck Avenue in the Ashby neighborhood of Berkeley, Calif., in response to the 1973 military coup in their country against Pres. Salvador Allende's socialist government. The center was a focal point for the opposition-in-exile to dictator Augusto Pinochet during his rule, and later evolved into the multifaceted community center and left-leaning meeting place it is today. La Peña – which means "gathering place" in Spanish – is committed to the belief that culture can be used as a vehicle for social change.
A restaurant was added in the 1980s, Café Valparaíso, also known as Café de la Peña. The menu focuses heavily on Chilean empanadas, but has expanded over the years, adding other Latin American cuisine from Cuba, Mexico, Guatemala, and Peru. There is also Los Cilantros, an authentic Mexican restaurant.
La Peña has broadened its offerings to include several art forms that descended from African slaves in Cuba, Puerto Rico, and the Caribbean. It features lessons in and performances of dances such as the percussion-driven plena and bomba. The center has its own music groups – La Peña Chorus and Lab Hip Hop Ensemble – and is noted for its Little Friends of La Peña concert series of bilingual children's musical offerings.
The center is an annual gathering place for the Chilean diaspora, with meetings and celebrations for Chilean independence, Christmas, and the September 11 anniversary of the Chilean coup. In 2010 La Peña hosted the Mano a Mano (Hand in Hand) benefit for the victims of the 2010 Chile earthquake that raised thousands of dollars in donations.
The La Peña building façade is covered in a mesmerizingly beautiful Nueva Canción (New Song movement) inspired mural.
La Peña 2nd Generation, formed in November 2010, gathers young people from the communities of the Bay Area (and beyond), some of them children of the founders of La Peña, who want to support and promote the center. Their mission is to continue highlighting the importance of acting locally and thinking in a global way, and sustaining La Peña as a Bay Area hub of art and social justice.
La Peña is located at 3105 Shattuck Ave., Berkeley, CA 94705, between Prince St. and Woolsey St. Their phone is (510) 849-2568, and you can check out their website at www.lapena.org.
Photo: La Peña. | Brad Anderson/The Daily Californian.org