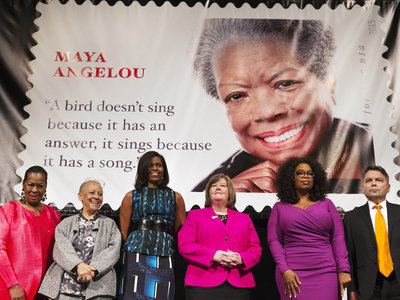 The multi-talented, much beloved Maya Angelou died one year ago, on May 28, 2014, at her home in Winston-Salem, N.C.
Author, poet, actress, and champion of civil rights, Dr. Maya Angelou was one of the most dynamic voices in 20th-century American literature. In her honor, the USPS released a stamp on April 7, 2015, showcasing Ross Rossin's 2013 oil-on-canvas portrait of Dr. Angelou, which is part of the Smithsonian National Portrait Gallery's collection. The stamp reads: "A bird doesn't sing because it has an answer, it sings because it has a song." The bright red-colored sheet also includes a saying from Angelou's book Letter to My Daughter, "Try to be a rainbow in someone's cloud."
Angelou was born as Marguerite Annie Johnson on April 4, 1928. (Martin Luther King, Jr., a close friend of Angelou's, was assassinated on her 40th birthday. Angelou stopped celebrating her birthday for years afterward, and sent flowers to King's widow, Coretta Scott King, for more than 30 years, until Coretta's death in 2006.)
During World War II, Angelou moved to San Francisco, where she won a scholarship to study dance and acting at the California Labor School. At that time, Angelou became the first black female cable car conductor, a job she held only briefly. Thereafter she worked a number of jobs to support herself and her son Guy. In 1952, she married a Greek sailor, Anastasios Angelopulos, from whom she derived her professional name – a blend of her childhood nickname "Maya" and a shortened version of his surname.
In the mid-1950s, Angelou's career as a performer began to take off. She landed a role in a touring production of Porgy and Bess, appeared in the 1957 off-Broadway production Calypso Heat Wave, and that year released her first album, Miss Calypso. A member of the Harlem Writers Guild and a civil rights activist, Angelou organized and starred in the musical revue Cabaret for Freedom as a benefit for the Southern Christian Leadership Conference, also serving as the SCLC's northern coordinator.
In 1961, Angelou appeared in an off-Broadway production of Jean Genet's The Blacks with James Earl Jones, Lou Gossett, Jr., and Cicely Tyson. The play earned strong reviews, but Angelou moved on, spending much of the 1960s abroad, first in Egypt and then in Ghana, working as an editor and a freelance writer. Angelou held a position at the University of Ghana for a time.
Writer James Baldwin urged her to write about her life experiences. Her efforts resulted in the enormously successful 1969 memoir about her childhood and young adult years, I Know Why the Caged Bird Sings, which made literary history as the first nonfiction best-seller by an African-American woman. This poignant work, much of it about the Jim Crow years in the Deep South, continues to be her most popular book. Angelou also wrote later autobiographical works such as All God's Children Need Traveling Shoes (1986) and A Song Flung Up to Heaven (2002), and published several collections of poetry.
In 1995, Angelou was lauded for remaining on the New York Times paperback nonfiction best-seller list for two years – the longest-running record in the chart's history.
On the day before the stamp's big reveal, The Washington Post confirmed that the
"bird" quotation did not, in fact, originate with Maya Angelou. Rather, it was author Joan Walsh Anglund, now 89, whose 1967 children's book A Cup of Sun featured the line, only with the word "he" instead of "it." One wag named Claudzilla commented on the Internet, "I guess the budget's too tight for proofreaders." Anglund has graciously forgiven the mistake.
Click this link for Maya Angelou's recitation of the poem "On the Pulse of Morning" at Pres. Clinton's first inauguration. Angelou went on to win a Grammy Award (best spoken word album) for the audio version of the poem.
Adapted from biography.com and other sources.
Photo: AP