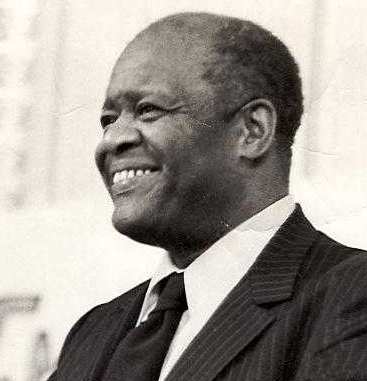 The National Federation of the Blind (NFB), founded in 1940, and this year celebrating its 75th anniversary, sponsors "Meet the Blind Month" in October, a nationwide campaign to increase awareness of, and support for blind people.
Blindness is not the characteristic that defines people or their future. Every day the NFB and other advocacy organizations raise the expectations of blind people, because low expectations create obstacles between blind people and their dreams. "You can live the life you want," says the NFB; "blindness is not what holds you back."
During this month, NFB members spread this message by conducting a variety of outreach activities providing opportunities for people to meet the blind of their communities, and to recognize that the blind are vital contributing members of society.
A beloved blind comrade
Within living memory of many seasoned members of the Communist Party, the figure of Henry Winston stands out with exceptional distinction. After World War II "Winnie" became national organizational secretary of the CPUSA, and was indicted under the Smith Act during the McCarthy period show trials. He was sentenced to prison where over the course of seven years he became blind owing to racist medical neglect.
Released in 1961, Winnie famously said, "They robbed me of my sight but not of my vision."
In 1966 Henry Winston became national chairman of the CPUSA, and remained in that position until his death in 1986 at the age of 75. The great meeting and social hall at the CPUSA building in New York City is named in his honor.
Another well-known socialist in her day, who was blind (and deaf) from birth, was the brilliant humanist Helen Keller, a co-founder of the ACLU in 1920.
Watch for local activities
Meet the Blind Month projects and programs will take place around the country. Some members of NFB will staff blindness information tables at local venues and events. Others will simply walk around in populated areas with brochures, a smile, and a handshake. The NFB invites the public to contact them if you would like assistance in identifying a representative to participate in your local meeting or event.
NFB will also be using social media to highlight various Meet the Blind Month activities. On Facebook, members will be posting information about their activities to the NFB timeline. You can search for #nfbmtbm14 on Twitter to get updates on Meet the Blind Month activities. For these and other updates about NFB activities, you can follow @NFB_Voice on Twitter.
The National Federation of the Blind says, "We believe in blind people because we are blind people."As a national organization with numbers, influence, diversity, and determination, "We support one another, act with courage and determination when we encounter barriers or experience setbacks, and engage in collective action to improve our lives."
Sources: National Federation of the Blind, Political Affairs, People's World.