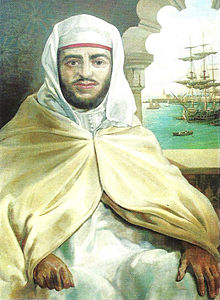 On December 20, 1777, the Kingdom of Morocco became the first country in the world to recognize United States independence, only a year and a half after the U.S. Declaration of Independence was issued. The War of Independence was still in progress, and the result was still far from certain.
In the 1780s, after independence had been secured, Moroccan pirates threatened American shipping in the Mediterranean. Thomas Barclay, the American consul in France, arrived in Morocco in 1786. There he negotiated the Moroccan-American Treaty of Friendship, which was signed later that year in Europe by John Adams and Thomas Jefferson.Under Sultan Mohammed III, Morocco became at once the first Arab state, the first African state, and the first Muslim state to sign a treaty with the United States. Congress ratified the Treaty of Peace and Friendship between the two nations in 1787. Renegotiated in 1836, the treaty is still in force, constituting the longest unbroken treaty relationship in U.S. history.
In 1863, the King of Morocco released an official order stating: "the Confederate States of America are fighting the government with whom we are in friendship and good relations….If any vessel of the so-called Confederate States enters your port, it shall not be received, but you must order it away on pain of seizure; and you will act on this subject in cooperation with the United States…."
The Moroccan city of Tangier on the Strait of Gibraltar is home to the oldest U.S. diplomatic property in the world. Now a museum, the Tangier American Legation Museum is also the only building outside of the U.S. that is now a National Historic Landmark.
Adapted from Wikipedia.
Photo: Sultan Mohammed III | Wikipedia (CC)