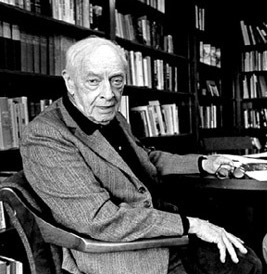 Saul Bellow (born Solomon Bellows) entered the world on June 10, 1915, at Lachine, near Montreal, Québec, Canada.
He would become one of America's great postwar authors, examining complex urban antiheroes at war with the society they live in. His novels included The Adventures of Augie March (1953), Henderson the Rain King (1959), Herzog (1964), Mr. Sammler's Planet (1970), Humboldt's Gift (1975), and Ravelstein (2000).
Bellow was awarded the Pulitzer Prize, the Nobel Prize for Literature in 1976, and the National Medal of Arts. He is the only writer to win the National Book Award for Fiction three times.
In the words of the Nobel Committee, his writing exhibited "the mixture of rich picaresque novel and subtle analysis of our culture, of entertaining adventure, drastic and tragic episodes in quick succession interspersed with philosophic conversation, all developed by a commentator with a witty tongue and penetrating insight into the outer and inner complications that drive us to act, or prevent us from acting, and that can be called the dilemma of our age."
"There is an immense, painful longing," Bellow has said, "for a broader, more flexible, fuller, more coherent, more comprehensive account of what we human beings are, who we are and what this life is for."
Bellow was born two years after his Lithuanian-Jewish parents emigrated from St. Petersburg, Russia. Of his family's emigration, Bellow wrote: "The retrospective was strong in me because of my parents. They were both full of the notion that they were falling, falling. They had been prosperous cosmopolitans in St. Petersburg. My mother could never stop talking about the family dacha, her privileged life, and how all that was now gone. She was working in the kitchen. Cooking, washing, mending…. There had been servants in Russia…. But you could always transpose from your humiliating condition with the help of a sort of embittered irony."
When Bellow was nine, his family moved to the Humboldt Park neighborhood of Chicago, the city that formed the backdrop of many of his novels. He rebelled against what he later called the "suffocating orthodoxy" of his religious upbringing, and he began writing at a young age. Early influences were the Bible, Shakespeare, and the great 19th-century Russian novelists.
Bellow attended the University of Chicago but later transferred to Northwestern University, graduating with honors in anthropology and sociology. Later he did graduate work at the University of Wisconsin-Madison.
In the late 1930s, Bellow joined the Chicago branch of the New Deal's Works Progress Administration Writer's Project, which included such future Chicago literary luminaries as Richard Wright and Nelson Algren. Many of the writers were radical: If not members of the Communist Party, they were sympathetic to the cause. Bellow, however, was a Trotskyist. At the age of 24, Bellow went to Mexico City to meet Leon Trotsky, but Trotsky was assassinated the day before they were to meet.
In 1941 Bellow became a naturalized U.S. citizen, and during World War II Bellow joined the merchant marine. During his service he completed his first novel, Dangling Man (1944), about a young Chicago man waiting to be drafted. The Adventures of Augie March, written in a colloquial yet philosophical style, established Bellow's reputation as a major author. Readers have compared it to the great Spanish classic Don Quixote.
Saul Bellow is also responsible for the first English-language appearance of the work of Yiddish writer Isaac Bashevis Singer. In 1953, Bellow translated Singer's story "Gimpel the Fool" for the Partisan Review magazine.
As he grew older, Bellow turned from leftist politics and became identified with cultural conservatism. He opposed feminism, campus activism and postmodernism, and also thrust himself into the sometimes contentious realm of Jewish and African-American relations. But some of his basic humanistic values remained: "There are evils that have the ability to survive identification and go on for ever…money, for instance, or war."
Bellow died at Brookline, Mass., on April 5, 2005.
Adapted from biography.com, Wikipedia, and other sources.
Photo: Wikipedia Commons