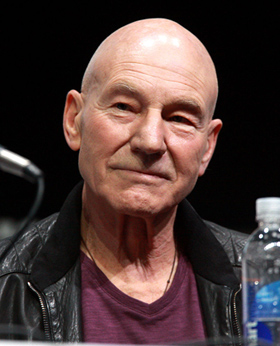 The highly accomplished, ever busy, and much beloved actor Patrick Stewart, who achieved worldwide fame in Star Trek: The Next Generation, the X-Men films, A Christmas Carol, and Excalibur, was born in Mirfield, Yorkshire, England, on July 13, 1940.
At the age of 12 Stewart enrolled in an eight-day drama course which changed his life. Thereafter, his participation in local amateur dramatics increased steadily, and before long he was pursuing acting full-time.
In 1957 he enrolled in the Bristol Old Vic Theatre School, spending two years learning his craft, acquiring the "Received Pronunciation" of the British stage, and losing his Yorkshire accent. He made his professional stage debut in 1959 at the Theatre Royal in Lincoln, playing Morgan in a stage adaptation of Treasure Island. His early baldness did not deter him: He could play character roles au naturel and don a toupee for juvenile leads.
Throughout his career Stewart has successfully bridged the gap between the theatrical world of the Shakespearean stage and contemporary film and television. With the Royal Shakespeare Company he has played such roles as King John, Shylock, Henry IV, Cassius, Titus Andronicus, Oberon, Leontes, Enobarbus, Touchstone and Launce, as well as roles in modern plays.
On television, Stewart originated the role of Jean-Luc Picard in the hit series Star Trek: The Next Generation, which aired from 1987 to 1994. In addition to his starring role, he also directed several episodes, one of which ("A Fistful of Datas") received an Emmy. Stewart reprised his portrayal of Picard in the motion pictures Star Trek: Generations, Star Trek: First Contact, and Star Trek: Insurrection. In 2001, Stewart filmed Star Trek: Nemesis, the tenth installment of Paramount Pictures' Star Trek feature films.
As Picard, Stewart displays a calm, cool and collected, but also compassionate intellect that became a model for "best practices" administration. And the role had a powerful effect on the man: "It came to a point where I had no idea where Picard began and I ended. We completely overlapped. His voice became my voice, and there were other elements of him that became me."
Stewart's explorations of contemporary American drama on stage include Edward Albee's Who's Afraid of Virginia Woolf? and Arthur Miller's The Ride Down Mt. Morgan.
In 1997, Stewart received critical notice for his title role of Othello at the Shakespeare Theatre in Washington, D.C. Jude Kelly directed Stewart along with an otherwise all-Black cast in a "photo-negative production" which took a bold, new look at the play. Stewart's performance was praised in the New York Times as "never anything less than uncanny in his psychological portrait: it's like watching an autopsy on human feeling."
In 1998, Stewart played Captain Ahab in the USA network's Moby Dick, opposite Gregory Peck and Henry Thomas. The $18 million epic mini-series, filmed on location in Australia, set a ratings record for the network.
In addition to Dickens's A Christmas Carol, Stewart has adapted other works for the stage, TV and radio, including two works by Mikhail Bulgakov, The Procurator (from the novel The Master and Margarita) and A Country Doctor's Notebook. In 1992, he directed the musical-drama Every Good Boy Deserves Favour by Tom Stoppard and Andre Previn, starring with four other Star Trek cast members and the Orange County Symphony Orchestra.
In 1995 Stewart starred on Broadway as Prospero in Shakespeare's The Tempest. The production, which originated as part of New York's Shakespeare in the Park Festival, received overwhelming public and critical response, becoming the festival's biggest event since 1980.
Stewart won a 1996 Grammy Award for his narrative work on the Best Spoken Word Album for Children, Soviet composer Sergei Prokofiev's Peter and the Wolf.
In 2001, Queen Elizabeth conferred on Stewart the Order of the British Empire (O.B.E.).
Stewart has established a solid record of support for liberal causes, among them marriage equality. On his Patrick Stewart Network website he promotes some of his favorites: The Ocean Alliance, Amnesty International, Doctors Without Borders, and Refuge (for women and children against domestic violence).
Happy birthday, Sir Patrick!
Adapted from patrickstewart.org and other sources.
Photo: Wikipedia (CC)