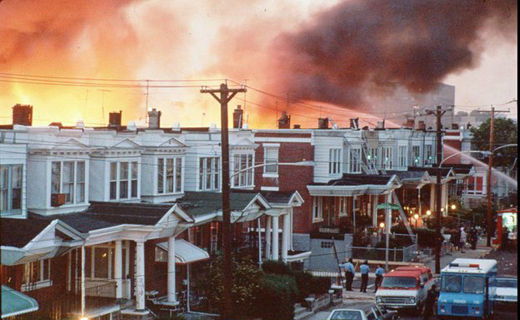 On this date in 1985, Philadelphia police dropped a bomb containing the powerful military plastic explosive C-4 on a residential building, resulting in a massive fire that left 11 persons dead (including 5 children) and destroyed approximately 65 nearby houses.
Founded by John Africa in 1972 as the Christian Movement for Life in 1972, but almost from the start known as the MOVE Organization, MOVE is a Philadelphia-based African American group that preached revolution and advocated a return to a natural lifestyle. They lived communally and vowed to lead a life unimpeded by the government, police or technology. Passionate supporters of animal rights, members adopted vegan diets. They also adopted the surname "Africa."
Often times MOVE members would engage in public demonstrations related to issues they deemed important. Their "confrontation units" faced the system in courts and in front of police precincts, to try and tie up the system with mass arrests and jailings. They were especially active during the era of openly racist Philadelphia Mayor Frank Rizzo, who at one point tried to starve MOVE out in an expensive, 14-month standoff with both sides heavily armed, which only gained more community support for MOVE. In 1978 Rizzo sent the police in, and one officer was killed.
In 1981 MOVE moved to a row house at 6221 Osage Ave. On May 13, 1985, after complaints from neighbors, as well as indictments of numerous MOVE members for parole violation, contempt of court, illegal possession of firearms, and making threats, the Philadelphia Police Department attempted to clear the MOVE house and arrest the indicted MOVE members. This led to an armed standoff. Police lobbed tear gas canisters at the building. MOVE members fired at the police, and the police returned fire with semiautomatic weapons.
By order of Philadelphia Police Commissioner George Sambor, a Pennsylvania State Police helicopter then dropped two one-pound bombs made of FBI-supplied water gel explosive, a dynamite substitute, on the roof of the house. Ramona Africa, one of two survivors, claimed that police fired at those trying to escape the burning house, while the police stated that MOVE members had been firing at police.
Mayor W. Wilson Goode appointed an investigative commission which issued its report on March 6, 1986. The report denounced the actions of the city government, stating that "Dropping a bomb on an occupied row house was unconscionable." No one from the city government was ever charged criminally. This incident goes down in the annals of post-Vietnam War militarization of urban policing, particularly as directed against poor people of color.
In 1996, a federal jury ordered the city to pay a $1.5 million civil suit judgment to survivor Ramona Africa and relatives of two people killed in the bombing. The jury had found that the city used excessive force and violated the members' constitutional protections against unreasonable search and seizure. Philadelphia was nicknamed the "The City that Bombed Itself."
Adapted from Chase's Calendar of Events and other sources. An hour-long documentary of the 1985 incident can be found here.