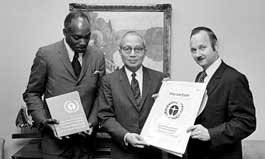 On June 5, 1972, the landmark United Nations Conference on the Human Environment opened in Stockholm, Sweden. It is widely recognized as the beginning of modern political and public awareness of global environmental problems.
World Environment Day, launched by the conference, has been celebrated on June 5 each year since 1973. This year's theme is "'Small Islands and Climate Change." The official slogan is "Raise Your Voice Not The Sea Level."
The Stockholm conference adopted a Declaration on the Human Environment, the first document in international environmental law to recognize the right to a healthy environment. The declaration sets forth "common principles to inspire and guide the peoples of the world in the preservation and enhancement of the human environment."
It connects environmental issues with the needs of developing nations and the need to protect human rights, including freedom from colonialism, apartheid and nuclear weapons.
The conference was attended by representatives of 113 countries, 19 inter-governmental agencies, and more than 400 inter-governmental and non-governmental organizations.
It "represented a first taking stock of the global human impact on the environment, an attempt at forging a basic common outlook on how to address the challenge of preserving and enhancing the human environment," says Gunther Handl, Tulane University public international law.
After Stockholm, there was a dramatic increase in global awareness of environmental issues and in adoption of environmental laws.
The 1972 conference led to international efforts to address climate change such as the 1997 Kyoto Treaty and a succession of world meetings that are still struggling to reach consensus on actions to reduce global warming.
Photo: Keith Johnson, from Jamaica, left, chairman of the preparatory committee for the 1972 UN Conference on the Human Environment, UN Secretary-General U Thant, center, and Maurice Strong, right, secretary-general of the conference, with a design for the official conference poster, at UN headquarters in New York, Sept. 15, 1971. UN/Teddy Chen