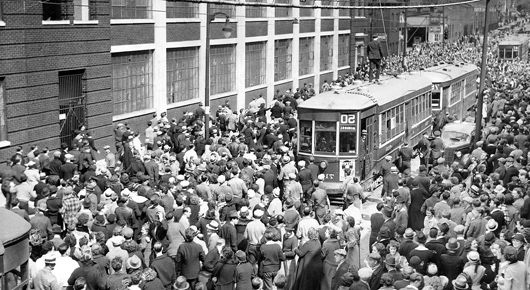 Seventy-five years ago, on May 27, 1940, the U.S. Supreme Court ruled in Apex Hosiery Co. v. Leader, that a sit-down strike was not a violation of the Sherman Anti-Trust Act even if it interfered with interstate commerce. The company had sued for treble damages (triple their financial loss) under the Sherman Act, citing its Section 1: "Every contract, combination in the form of trust or otherwise, or conspiracy, in restraint of trade or commerce among the several States, or with foreign nations, is hereby declared to be illegal."
On May 4, 1937, the American Federation of Full Fashioned Hosiery Workers, under its president, William Leader, declared a strike at Apex Hosiery Co., located at at 5th and Luzerne Streets in Philadelphia, and organized support among other workers in the city. When Apex refused to recognize the union, Leader declared a sit-down strike and led an occupation of the factory which lasted for seven weeks.
Locks on all gates and entrances to the plant were changed, and only strikers were given keys. No others were allowed to leave or enter without permission. During the occupation, the union supplied the strikers with food, blankets, cots, medical care, and paid them strike benefits. While occupying the factory, the strikers damaged property and equipment of the company, and all manufacturing operations ceased. The strikers retained possession of the plant until June 23, 1937, when they were forcibly ejected.
The company did not resume even partial manufacturing operations until August 19. In the meantime, the flow of hosiery products into interstate commerce was stopped.
The recent United Auto Workers sit-down at the GM plant in Flint was clearly an inspiration to the hosiery workers in Philadelphia, although there was scant record of damage done to the auto manufacturing equipment.
The Supreme Court declared that if the strike were found to be a restraint of trade, then "practically every strike in modern industry would be brought within the jurisdiction of the federal courts under the Sherman Act."
The mere fact that strikes or agreements not to work, entered into by laborers to compel employers to yield to their demands, may restrict the power of such employers to compete in the market does not fall within the legitimate purview of the Sherman Act. Apex did not show that the interruption of business caused by the strike affected, or was intended to affect, competition and prices in the market, which was the primary intent of the anti-trust law.
The court's decision did not directly address the destruction of property performed by the strikers, but only referred it to the state courts, as not in the jurisdiction of the Supreme Court.
The historic finding constituted a blow to employers seeking to pervert the intended meaning of the law as a way of attacking workers' rights.
Apex Hosiery closed operations in 1954, after 53 years in business.
Adapted from intellectualtakeout.org, peace history index, and other sources.
Photo: Apex Hosiery strike hits the streets of Philadelphia. | San Antonio Peace.center