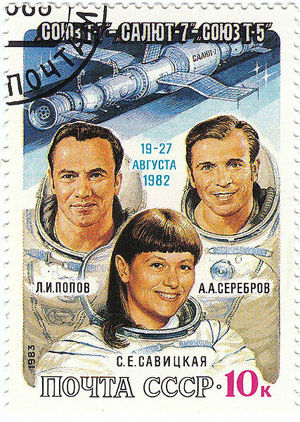 On July 25, 1984, Salyut 7 cosmonaut Svetlana Savitskaya became the first woman to perform a space walk.
Svetlana Yevgenyevna Savitskaya, born August 8, 1948, flew aboard Soyuz T-7 in 1982, becoming the second woman in space some 19 years after Valentina Tereshkova. She served two duty tours on the Salyut 7 (the Soviet Union' space station in low Earth orbit from April 1982 to February 1991), and on her second tour made a space walk. She was outside the space station for 3 hours 35 minutes.
She was also a test and sports pilot: starting from 1974 she set 18 international world records on MiG aircraft and three records in team parachute jumping. She won first place at the 6th FAI World Aerobatic Championship in 1970.
Valentina Vladimirovna Tereshkova was the first woman in space. She was selected out of more than 400 applicants to pilot Vostok 6 on June 16, 1963, becoming both the first woman and the first civilian to fly in space. During her three-day mission, she performed various tests on herself to collect data on the female body's reaction to spaceflight. Before being recruited as a cosmonaut, Tereshkova was a textile factory assembly worker and an amateur parachutist.
On Monday, Dr. Sally Ride, the first American female astronaut, died of pancreatic cancer. She was 61 years old.
As the first American woman to fly in space (on the Challenger in 1983), Ride faced some unique challenges. Speaking to reporters before the first shuttle flight, Dr. Ride –chosen in part because she was known for keeping her cool under stress -endured such questions as: Would she cry? Would she wear a bra and makeup in space?
Dr. Ride received her doctorate in physics from Stanford University in 1978 and became a physics professor at the University of California, San Diego, and director of the California Space Institute in 1989.
After her space career, Ms. Ride devoted herself to bringing the excitement of science to children – especially girls. She helped found the Challenger Center for Space Science Education, based in Virginia, and in 2001 launched Sally Ride Science, an educational company. She also co-wrote several books for children.
Dr. Ride is survived by her partner of 27 years, Dr. Tam O'Shaughnessy.
Photo: USSR 1983 stamp: Cosmonauts Leonid Popov, Svetlana Savitskaya, and Aleksandr Serebrov. Wikipedia.