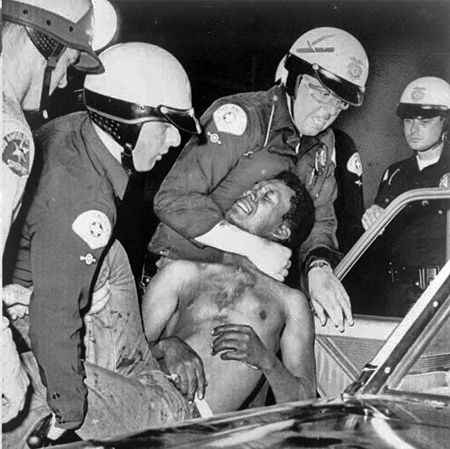 On this date in 1965, in the predominantly black Watts neighborhood of Los Angeles, racial tension reached a breaking point after two white policemen scuffled with a black motorist suspected of drunken driving. A crowd of spectators gathered near the corner of Avalon Boulevard and 116th St. to watch the arrest, and soon grew angry by what they believed to be yet another incident of racially motivated police abuse.
Widespread protest, spurred on by destitute residents of Watts who were embittered after years of economic oppression and political isolation, eventually ranged over a 50-square-mile area of South Central Los Angeles (now called South Los Angeles). Looting of stores, torching of buildings – especially white-owned businesses – and racially motivated beatings took place, as snipers fired at police and firefighters. Finally, with the introduction of thousands of members of the California Army National Guard, order was restored on August 16.
The five days of violence left 34 dead, 1,032 injured, nearly 4,000 arrested, and an estimated 50-100 million dollars' worth of property damaged or destroyed. The Watts rebellion – also known in more politically tinged language as "riot" – was the most destructive urban uprising in 20 years and foreshadowed the many rebellions to occur in ensuing years in Detroit, Newark, and other U.S. cities. It was an international embarrassment in the so-called "land of the free."
Some historical background
In the 1940s, in the Second Great Migration, black Americans migrated to the West Coast in large numbers, in response to defense industry recruitment at the start of World War II. The black population in Los Angeles leapt from approximately 63,700 in 1940 to about 350,000 in 1965, making the once small black community visible to the general public, although politically unrepresented.
While Los Angeles did not have legal segregation as in the South, it still had racial restrictive covenants that prevented blacks and Latinos from renting and buying in certain areas, even long after the courts ruled them illegal in 1948. Up to 95 percent of L.A. housing was off-limits to African Americans and Asians. Service members who had served in WWII or worked in L.A.'s defense industries returned to face increasing patterns of discrimination in housing.
The explosive growth of suburbs – most of which, by a variety of methods, barred black people – provided an opportunity for white people to leave the urban core en masse. Blacks were essentially "ghettoized" in East or South Los Angeles, which includes the Watts neighborhood and Compton.
The spread of African Americans throughout these areas was achieved in large part through blockbusting, a technique whereby real estate speculators would buy a home on an all-white street, sell or rent it to a black family, and then buy up the remaining homes from Caucasians at cut-rate prices for sale at a hefty profit to housing-hungry black families. This pattern was repeated in urban centers all over the country, severely restricting educational and economic opportunities available to the minority community.
While areas were in transition, racial tension became an ever-present factor, with white gangs routinely accosting blacks who traveled through white areas, and bombings or crosses burning on the lawns of black homes.
The Rumford Fair Housing Act, designed to remedy residential segregation, was overturned by Proposition 14, which was sponsored by the California real estate industry, and supported by a majority of white voters. Psychiatrist and civil rights activist Alvin Poussaint considered Prop 14 to be one of the root causes of black rebellion in Watts. In 1966, the California Supreme Court reinstated Rumford in the Reitman v. Mulkey case, a decision affirmed by the U.S. Supreme Court the following year.
Interpreting Watts
A wide-ranging debate has unfolded over what really happened in Watts. Similar controversy has surrounded other urban uprisings as well. Those affected by and participating in the chaos that followed the original arrest had varying perspectives. From the distance of 50 years it would appear that the hope embodied in the recently signed Voting Rights Act and the passage of Medicare and Medicaid did not translate to confidence at the street level that things were looking up. That same "long hot summer" of 1965 also marked President Johnson's intense buildup of American troops in Vietnam, which impacted minority communities disproportionately.
A commission under Governor Pat Brown investigated the riots. The McCone Commission, headed by former CIA director John A. McCone, released a 101-page report on December 2, 1965, which identified the root causes of the riots to be high unemployment, poor schools, and other inferior living conditions for African Americans in Watts. Recommendations for addressing these problems included "emergency literacy and preschool programs, improved police-community ties, increased low-income housing, more job-training projects, upgraded health-care services, more efficient public transportation, and many more." Most of these recommendations were, predictably, not acted upon. Later uprisings would erupt again in L.A. and in other cities, for many of the same reasons.
Reflecting the attitudes of the time, public opinion polls showed that around the same percentage of people believed that the riots were linked to Communist groups as those who cited social problems like unemployment and prejudice as the cause. Something of a consensus concerning racism and discrimination emerged only three years after hearings conducted by a committee of the U.S. Commission on Civil Rights took place in Los Angeles to assess the condition of relations between the police force and minorities.
In Ferguson, Baltimore, New York and so many places, it is easy to understand the view that far too little has changed in 50 years.
Sources: BET, Wikipedia and YouTube. A YouTube video of images and music from the uprising can be found here. Others can be located on YouTube as well. Gerald Horne's book "Fire This Time: The Watts Uprising and the 1960s" (1995, University Press of Virginia) remains one of the best accounts.
Photo: Police arrest a man during the Watts Riots. Image marked as August 12, by New York World-Telegram – LOC. Licensed under Public Domain via Wikimedia Commons.