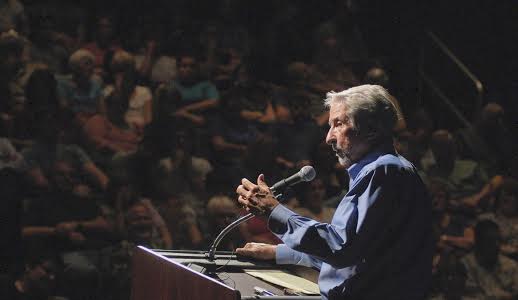 After over 50 years of activism, politics and writing, Tom Hayden is still a prominent voice for ending American aggression in Afghanistan, Iraq and Pakistan, for erasing sweatshops, saving the environment, and reforming politics through greater participatory democracy. A leader of the student, civil rights, peace and environmental movements of the 1960s, he went on to serve 18 years in the California legislature, where he chaired labor, higher education and natural resources committees.
Hayden was born on this date in 1939 in Detroit.
In addition to being an editorial board member and columnist for The Nation, Hayden regularly publishes his commentary in other major media. As director of the Peace and Justice Resource Center in Culver City, Calif., he organizes, travels and speaks constantly on current hot topics. He recently drafted and lobbied successfully for Los Angeles and San Francisco ordinances to end all taxpayer subsidies for sweatshops.
Hayden is the author and editor of 20 books, including the recently published Inspiring Participatory Democracy: Student Movements from Port Huron to Today. He has taught most recently at UCLA, Scripps College, Pitzer College, Occidental College, and the Harvard Institute of Politics.
He is married to the actress-singer Barbara Williams with whom he shares a son, Liam. He has two other children from an earlier marriage to Jane Fonda.
According to a New York Times book review, Tom Hayden was "the single greatest figure of the 1960s student movement." During his time in California state government, he was described as "the conscience of the Senate" by the Sacramento Bee's political analyst. The Nation magazine has named him one of the 50 greatest progressives of the 20th century.
Hayden was a student editor at the University of Michigan, a founding member of Students for a Democratic Society in 1961, and author of its visionary call, the Port Huron Statement, described by Howard Zinn as "one of those historic documents which represents an era." As a Freedom Rider in the Deep South, Hayden was arrested and beaten in rural Georgia and Mississippi during the early Sixties. In 1964, Hayden worked as a door-to-door community organizer in the inner city of Newark, N.J., part of an effort to create a national poor people's campaign for jobs and empowerment.
Hayden became an increasingly active opponent of the Vietnam War through teach-ins, demonstrations, writing and making an unauthorized trip to Hanoi in 1965 to meet the other side and promote peace talks, journalistic contacts and facilitate American POW releases. He accompanied Communist Party delegate Herbert Aptheker and Quaker peace activist Staughton Lynd on that journey, touring villages and factories and meeting with an American POW whose plane had been shot down.
Lynd later wrote that the New Left disavowed "the anti-Communism of the previous generation." Lynd and Hayden expanded on that by saying, "We refuse to be anti-Communist. We insist the term has lost all the specific content it once had."
After helping lead street demonstrations against the war at the 1968 Chicago Democratic Convention, where he was beaten, gassed and arrested twice, Hayden was indicted in 1969 with seven others on conspiracy and incitement charges. After five years of trials, appeals, and retrials, he was acquitted of all charges.
In the Seventies, Hayden organized the grassroots Campaign for Economic Democracy in California, which won dozens of local offices and shut down a nuclear power plant through a referendum for the first time. He was elected to the California state assembly in 1982, and the state senate ten years later, serving eighteen years in all. Despite serving under Republican governors for 16 of 18 years, and twice subjected to Republican-led expulsion hearings, Hayden managed to pass over one hundred measures.
Happy 76th birthday (that's the spirit!) and many more!
Adapted from Tom Hayden The Peace and Justice Resource Center and Wikipedia. More information on Tom Hayden can be viewed here.
Photo: Tom Hayden speaks in Port Huron, Mich., in celebration of the 50th anniversary of the Port Huron Statement. tomhayden.com