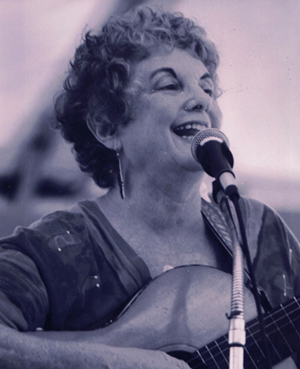 Tomorrow, Aug. 8, marks the 85th birthday of an extraordinary performing artist who is still very much among us and active as a singer, writer, songwriter, recording artist, radio producer and teacher both of music and in the field of special education. For many years she has worked primarily with blind children.
Ruthie has been a poet since age eight. She began her radio career in Chicago at age 12, and has been on the air as a radio producer with KPFK in Los Angeles since its beginning 55 years ago. She produces the nationally renowned "Halfway Down the Stairs," her multi-cultural, nonsexist program of stories, songs and poetry for listeners of all ages.
In 1996 Uncle Ruthie received the Rotary International Peace Ambassador Award, followed by the Children's Music Network Magic Penny Award in 2010. In 2011 her latest two-CD album, "The Jacaranda Tree," won second place in the Parents' Choice Awards.
Ruthie has recorded six albums, including the very adult "The Mystery of Time" and "Hanukkah at Home" for Rounder Records. She is a former long distance runner.
Uncle Ruthie is a proud member of the Communist Party. She performed in February for the People's World fundraiser in Los Angeles that featured PW's labor editor John Wojcik as keynote speaker.
She is particularly pleased with the "Poet Tree" she maintains in her front yard, a Chinese elm, in a contemplative courtyard adjacent to the sidewalk, on which she both posts poetry and invites passersby to post. Last year columnist Steve Lopez wrote up the Poet Tree in the Los Angeles Times.
To celebrate her 85th birthday, Uncle Ruthie is giving a concert with many invited guest artists, on Sunday, Aug. 9 at 7:30 pm at Beyond Baroque, 681 Venice Blvd., Venice, Calif. Guest artists include Luis Rodriguez, Austin Straus, Tracy Newman, Ross Altman, Dan Crow, Fred Sokolow, Lynn Shipley, J.P. Nightingale, and Jawanza Dumisani. General admission is $10; students and seniors, $6. No one will be turned away for lack of funds.
Why "Uncle" Ruthie, you might ask. The early days of radio programming for children were populated by announcers with names like "Uncle Bob" and "Uncle Fred," so she decided on a whim for one program to identify herself as "Uncle Ruthie," and the name has stuck for half a century!
Here is one of Ruthie's poems from her book "Come to My Voice," which comes with a CD of her reading all the poems so that her blind students and friends can enjoy:
Every Little Once in a While
"Bring a little water, Sylvie, bring a little water now,
Bring a little water, Sylvie, every little once in a while!" (old slave song)
Linda, tall
with powerful legs,
Linda, beautiful
and black,
Linda, who brings the mail
sits sobbing
on my front porch,
on the hottest day of summer.
"You say you're a poet," she says,
"Put this in one of your poems –
On my route
there's this really old lady –
lives on the second floor,
her mailbox is on the street floor,
she can hardly walk.
So for five years
I been delivering her mail
upstairs, to her door.
Today, when I get up there
it's so hot,
I ask for a glass of water.
She looks at me –
looks at me funny,
says, just a minute.
I can hear the water
running in the kitchen
She comes back
with a saucepan,
my water
in that saucepan
'Here,' she says.
I don't take it.
I don't take it – I don't drink it.
I don't say anything.
I go back downstairs.
I finish that street
and I maintain
till I hit your porch.
Girl, get me some water."
I go inside,
grab my grandmother's best crystal glass,
fill it with ice water
and carry it to Linda.
Still sobbing,
she drinks the water down.
"Think you can put this
in one of your poems?"
I tell her, "No, too hard.
who would believe it?"
"Bring a little water, Sylvie, bring a little water now,
Bring a little water, Sylvie, every little once in a while, every little once in a while!"
"Bring Me Little Water Sylvie" in a magnificent version by the all-women's a cappella group Sweet Honey in the Rock can be heard and viewed here.
Source: "Come to My Voice," by Uncle Ruthie Buell.