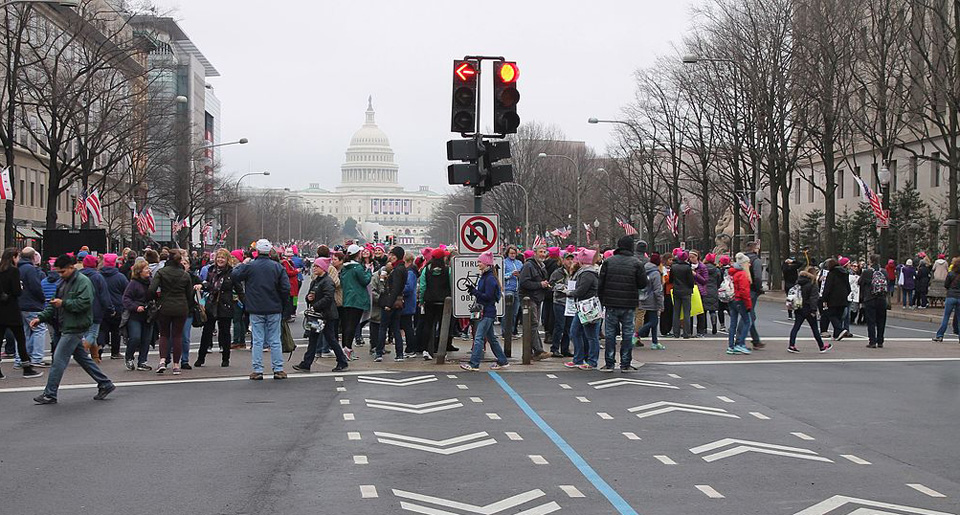 On this day 97 years ago, in 1920, after a 72-year struggle, women in the United States won the right to vote with ratification of the 19th Amendment to the Constitution. The constitutional amendment had first been introduced in 1878.
Women's Equality Day has been proclaimed each year by the president to commemorate this democratic advance. Every president has published a proclamation for Women's Equality Day since 1972, the year after legislation was first introduced in Congress by New York Democratic Rep. Bella Abzug. At press time the current sitting president had not issued such a statement, at least it does not appear on the White House website.
In March of this year, however, President Trump did declare Women's History Month: "America will continue to fight for women's rights and equality across the country and around the world. Though poverty holds back many women, America cannot and will not allow this to persist. We will empower all women to pursue their American dreams, to live, work and thrive in safe communities that allow them to protect and provide for themselves and their families.
"America is also mindful of the fight that continues for so many women around the world, where women are often not protected and treated disgracefully as second-class citizens. America will fight for these women too, and it will fight to protect young girls who are robbed of their rights, trafficked around the world, and exploited."
Readers may judge for themselves the value of this statement in light of actions coming from the White House that affect women's and families' lives in many ways, and in particular the lives of lesbian women who are threatened with loss of legal protection.
The full text of the Abzug resolution is as follows:
WHEREAS, the women of the United States have been treated as second-class citizens and have not been entitled the full rights and privileges, public or private, legal or institutional, which are available to male citizens of the United States; and
WHEREAS, the women of the United States have united to assure that these rights and privileges are available to all citizens equally regardless of sex;
WHEREAS, the women of the United States have designated August 26, the anniversary date of the passage of the Nineteenth Amendment, as symbol of the continued fight for equal rights: and
WHEREAS, the women of United States are to be commended and supported in their organizations and activities,
NOW, THEREFORE, BE IT RESOLVED, the Senate and House of Representatives of the United States of America in Congress assembled, that August 26 of each year is designated as "Women's Equality Day," and the President is authorized and requested to issue a proclamation annually in commemoration of that day in 1920, on which the women of America were first given the right to vote, and that day in 1970, on which a nationwide demonstration for women's rights took place.
Some further thoughts
It's interesting, looking back on this 1971 resolution, that strong as its language is, even now, only women (in paragraph 2) are given credit for uniting to assure women's rights. Certainly the women's suffrage movement had allies among mass organizations who need to be remembered; and by 1920 there were already a number of states where women legally voted.
In paragraph 5 the resolution speaks of women "given the right to vote," as if that prolonged struggle had not been won at great cost and sacrifice. The "national demonstration for women's rights" in 1970 marked the 50th anniversary of the 19th Amendment.
But compared to what we are facing today, these are minor quibbles. With ultra-right Republicans dominant in both houses of Congress, and with a fanatically pro-corporate president in the White House, we see daily attacks on women's rights, reproductive rights, voting rights and civil rights.
Women and the American people who are their allies saw it coming when they mounted the January 21st Women's March on Washington all across the country and indeed in many places abroad as well. It was the single largest demonstration in American history, in which four million people took part, more than 1 out of every 100 Americans.
The tax-giveaway-to-the-rich bill that masqueraded as the GOP health care bill repealing Pres. Obama's Affordable Health Care Act fortunately did not pass the Senate, but it was rife with—there's really no other word for it—hatred of women.
That way of singling out women for discrimination in healthcare—ending funding to Planned Parenthood, calling pregnancy, prenatal care and birth "pre-existing conditions"—simply confirms that according to the all-white male cabal of Republicans that constructed their bill, women are aliens with abnormal needs. Such attacks on women, which will resurface in other forms, are nothing less than attacks on all working people, whose family costs and anxiety levels will only rise precipitously in order to fatten the super-rich. By any standard it's immoral and punitive. And these guys are "pro-life" ???
A luta continua. The struggle continues.
Adapted in part from Wikipedia.