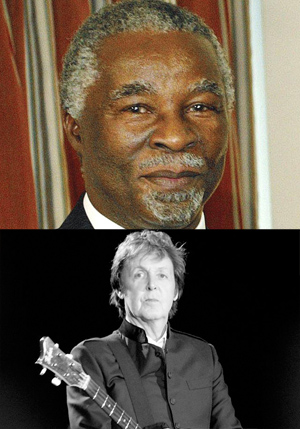 Two world-changing figures from the worlds of politics and music were born 72 years ago today, June 18, 1942: Thabo Mbeki, revolutionary anti-apartheid leader and South Africa's second post-apartheid president, and Paul McCartney, who with his fellow Beatles, revolutionized popular music.
Mbeki has described himself as "born into the struggle," noting that in his childhood home a portrait of Karl Marx was on the mantelpiece, and a portrait of Gandhi hung on the wall.
His father, Govan Mbeki, was a leader of the African National Congress and the South African Communist Party. Thabo Mbeki became involved in the anti-apartheid struggle as a high school student and was a leader of the student movement for much of his career. He worked in the underground movement, and along with other leaders of the ANC and SACP, went into exile for many years, where they helped give leadership to the struggle at home. For example, following the 1976 Soweto student uprising outside Johannesburg he initiated a regular radio broadcast from Lusaka, Zambia, tying ANC followers inside the country to their exiled leaders.
in 1989, Mbeki led the ANC delegation that conducted secret talks with the South African government. These talks led to the unbanning of the ANC and the release of political prisoners. He also participated in many of the other important negotiations between the ANC and the apartheid government that eventually led to the democratization of South Africa and end of apartheid rule. He succeeded Nelson Mandela as ANC president in December 1997 and as president of the Republic in June 1999; he was subsequently re-elected for a second term in April 2004.
As president, Mbeki helped to position South Africa as a regional power broker and promoted the idea that African political conflicts should be solved by Africans, not U.S. or other outside forces.
On a very different note, McCartney was born in London, where his mother, the family's primary wage-earner, was a midwife who rode a bicycle to see her patients (shades of "Call the Midwife"). His father, who served as a volunteer firefighter during World War II, was a trumpet player and pianist.
McCartney was largely a self-taught musician. From the earliest days of his career he and later his fellow Beatles John Lennon, George Harrison and Ringo Starr paid tribute to the musical influences of black and white American blues and popular music pioneers such as Little Richard, Elvis Presley, Buddy Holly, Carl Perkins, and Chuck Berry.
Paul McCartney's world famous musical career needs no summarizing here, but it is worth noting that he has regularly made a point of associating himself with humanitarian causes including LiveAid, FarmAid, BandAid, ethical treatment of animals, and Make Poverty History.
Photo: Wikipedia (CC)