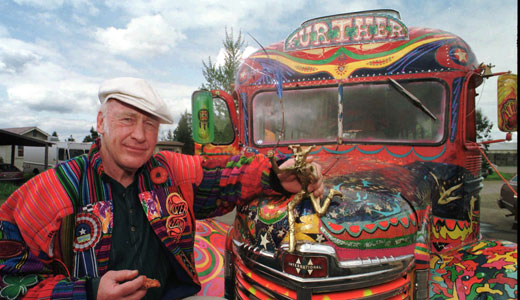 American writer Kenneth "Ken" Kesey was born on this day 80 years ago on September 17, 1935. He is best remembered for his novels "One Flew Over the Cuckoo's Nest"and"Sometimes a Great Notion." He was a countercultural link between the Beat Generation of the 1950s and the hippies of the 1960s.
Ken Kesey was born in La Junta, Colo., to dairy farmers. In 1946, the family moved to Oregon. Kesey was a champion wrestler in both high school and college and almost qualified to be on the Olympic team until a serious shoulder injury stopped him.
In 1956, while attending the University of Oregon, Kesey eloped with his high-school sweetheart, Norma "Faye" Haxby. They remained married until his death and had three children: Jed, Zane, and Shannon; Kesey had another child, Sunshine, in 1966 with fellow Merry Prankster Carolyn "Mountain Girl" Adams.
Kesey graduated from the University of Oregon School of Journalism and Communication in 1957. He was awarded the highly selective Woodrow Wilson National Fellowship in 1958. He enrolled in the creative writing program at Stanford University that fall, where he would develop lifelong friendships with Ken Babbs, Larry McMurtry, Wendell Berry, and Robert Stone.
While at Stanford, Kesey clashed with program director Wallace Stegner; according to Stone, Stegner "saw Kesey…as a threat to civilization and intellectualism and sobriety" and rejected Kesey's Stegner Fellowship applications for the next two years. Nevertheless, Kesey received the $2,000 Harper-Saxton Prize for his first novel in progress and continued to audit the graduate writing seminar through 1960 (taught that year by Frank O'Connor and Malcolm Cowley) as he began the manuscript that would become his first published book.
Kesey, the CIA and the drug culture
Kesey volunteered to take part in what turned out to be a CIA-financed study under the aegis of Project MKULTRA, a highly secret military program, at the Menlo Park Veterans Hospitalwhere he worked as a night aide.The project studied the effects of psychoactive drugs, particularly LSD, psilocybin, mescaline, cocaine, and others.Kesey wrote many detailed accounts of his experiences with these drugs, both during the study and in the years of private experimentation that followed.
Kesey's role as a medical guinea pig, as well as his stint working at the hospital, inspired him to write "One Flew Over the Cuckoo's Nest." The success of this 1962 book allowed him to move to a log house in La Honda, California, where he frequently entertained friends at psychedelic parties later recalled in writings by Allen Ginsberg, Tom Wolfe, Hunter S. Thompson and Frank Reynolds.
At the veterans hospital Kesey often spent time talking to the patients, sometimes under the influence of the hallucinogenic drugs with which he had volunteered to experiment. Kesey did not believe that these patients were insane, but rather that society had pushed them out because they did not fit the conventional ideas of how people were supposed to act and behave. The novel expresses deep skepticism about electroshock therapy and lobotomy.
Because everybody assumes the novel's lead character Chief is already crazy, he's able to keep on fooling them about being deaf and unable to speak, too. He cleverly exploits the prejudices of Nurse Ratched and other members of the administration."They don't bother not talking out loud about their hate secrets when I'm nearby," he says,"because they think I'm deaf and dumb. Everybody thinks so. I'm cagey enough to fool them that much. If my being half Indian ever helped me in any way in this dirty life, it helped me being cagey, helped me all these years."
In 1963, the novel was adapted into a successful stage play by Dale Wasserman, and in 1975, Miloš Forman directed a screen adaptation, which won the "Big Five" Academy Awards: Best Picture, Best Actor (Jack Nicholson), Best Actress (Louise Fletcher), Best Director (Forman) and Best Adapted Screenplay (Lawrence Hauben, Bo Goldman).
When the 1964 publication of his second novel, "Sometimes a Great Notion," required his presence in New York, Kesey, Neal Cassady and others in a group of friends they called the "Merry Pranksters" took a cross-country trip in a school bus nicknamed "Further."This trip, described in Tom Wolfe's "The Electric Kool-Aid Acid Test" (and later in Kesey's own screenplay "The Further Inquiry") was the group's attempt to create art out of everyday life, and to experience roadway America while high on LSD. In an interview after arriving in New York, Kesey remarked, "The sense of communication in this country has damn near atrophied. But we found as we went along it got easier to make contact with people. If people could just understand it is possible to be different without being a threat."A huge amount of footage was filmed on 16mm cameras during the trip which remained largely unseen until the release of the documentary film Magic Trip in 2011.
"Sometimes a Great Notion"is considered Kesey's great work by many critics. The story involves an Oregon logging family who cut and procure trees for a local mill in opposition to striking, unionized workers. It inspired a 1970 film starring and directed by Paul Newman; it was nominated for two Academy Awards.
In the mid-1960s Kesey was arrested for possession of marijuana and spent five months in the San Mateo County jail in Redwood City, Calif. On his release, he moved back to the Willamette Valley family farm in Oregon, where he spent the rest of his life and continued writing.
In 1994, Kesey toured with members of the Merry Pranksters performing a musical play he wrote about the millennium called "Twister: A Ritual Reality." The tour included a sold-out two-night run at The Fillmore in San Francisco. In Boulder, Colo., they coaxed the Beat Generation poet Allen Ginsberg into performing with them.
Kesey was diagnosed with diabetes in 1992. In 1997, health problems began to weaken him, starting with a stroke. In June 2001, Kesey was the keynote commencement speaker at Evergreen State College. His last major work was an essay for Rolling Stone magazine calling for peace in the aftermath of the September 11 attacks. An October 2001 tumor surgery on his liver was unsuccessful: He died of complications on November 10, 2001, age 66.
Adapted from Wikipedia and other sources.
Photo: Kesey poses with his bus "Further." | Jeff Barnard/AP