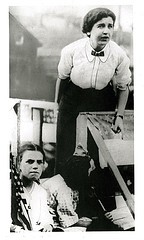 Elizabeth Gurley Flynn, legendary union organizer and later a leader of the Communist Party USA, was born Aug. 7, 1890.
Labor organizer Joe Hill dubbed her "The Rebel Girl" in his song of that name.
Gurley Flynn gained fame as a fiery leader of the 1912 "Bread and Roses" Lawrence, Mass., textile strike. She was a founder of the Industrial Workers of the World (the "Wobblies") and the American Civil Liberties Union, and leader of the International Labor Defense, which defended Sacco and Vanzetti and the Scottsboro Youth. She joined the Communist Party in 1936, and was elected chairperson in 1961.
Along with other CPUSA leaders, Flynn was arrested in the early 1950s under the McCarthy era anti-communist Smith Act, which was later ruled unconstitutional. She served two years in jail.
During her trial, she told the court:
"I came to the conclusion that socialism could be achieved, not by one splurge of violence, but by the persistent political activities of the workers and the people. And so in order to participate in political activities in the effort to achieve socialism, I joined the Communist Party."
Elizabeth Gurley Flynn was inducted into Labor's International Hall of Fame in May 2011.
Hazel Dickens sings Joe Hill's "The Rebel Girl":
Photo: Elizabeth Gurley Flynn speaks at a 1913 rally of striking workers in Paterson, N.J. (New York University Tamiment Libraryt)