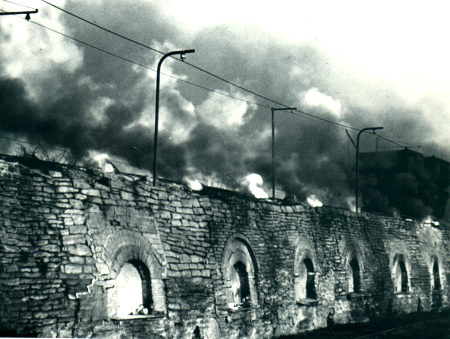 On this day in 1891, the explosion of Mammoth Mine No. 1, near Mount Pleasant, Pennsylvania, left 109 coal miners dead.
The coal miners were underpaid Eastern Europeans (mostly Polish and Slavic) who were told not to complain about their substandard and dangerous working conditons, frequently informed that "other foreigners with strong backs" could quickly replace them.
After their deaths, the Mount Pleasant journal published an article that remarked, "Of the 109 who went to work that day, no one escaped the awful tale of how death came. It was about 9 o'clock when the explosion occurred, and soon a black vapor poured out of the top of the 107-foot shaft, telling those above ground plainer than words could do that death lurked in the depths."
Of the deceased miners, 31 left families behind. Some of the others were younger boys.
The Mammoth disaster prompted the state to pass legislation that strengthened mine safety inspections.
Photo: Mammoth Coke Works, near Mammoth Mines No. 1 and 2. Coal and Coke Heritage Center/Penn State University