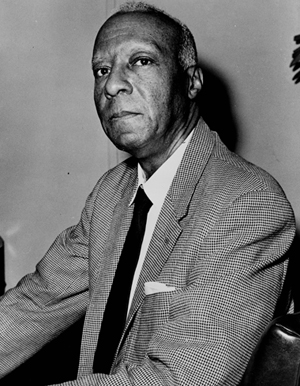 On this day in 1889 A. Phillip Randolph, head of the Brotherhood of Sleeping Car Porters was born. Randolph played a leading role in the fight for civil and labor rights, from the 1930s through the 1960s.
An early socialist, Randolph worked with the Socialist Party and helped edit The Messenger, a publication aimed at African Americans. He was elected head of the Brotherhood Sleeping Car Porters in 1925. In the 1930s he for a time helped lead the National Negro Congress but later broke with it.
Under the slogan of "Double V for Victory" the union leader along with Baynard Rustin and others proposed a march on Washington to protest segregation of the war industries. President Roosevelt responded by issuing the Fair Employment Act. Randolph in the late 1950s joined forces with Martin Luther King Jr. and assisted the Montgomery Bus Boycott. He was 75 at the time of the 1963 March on Washington. Randolph died in 1979.
Photo: Wikimedia