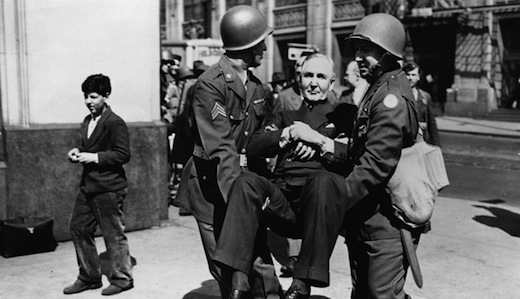 Today in 1944, on the orders of President Roosevelt, the U.S. Army seizes the Chicago headquarters of the unionized Montgomery Ward & Co. after management twice defies the National War Labor Board. Montgomery Ward Chairman Sewell Avery, an anti-labor/anti-New Deal ideologue, refused to comply with war board decisions during World War II. In an effort to avoid strikes and disruptions in production, the board had negotiated settlements between management and workers to avoid anything that could cripple the war effort.
Montgomery Ward had supplied the Allies with everything from tractors to auto parts to workmen's clothing–items deemed as important to the war effort as bullets and ships. Although growing rich off the war contracts, Avery refused to comply with the terms of three different collective bargaining agreements with the United Retail, Wholesale and Department Store Union hammered out between 1943 and 1944.
On April 26, 1944, after Sewell refused a second board order, Roosevelt called out the Army National Guard to seize the company's main plant in Chicago. Avery himself had to be carried out of his office by National Guard troops. By December of that year, Roosevelt was fed up with Sewell's obstinacy and disrespect for the government's authority. (The uber-capitalist Sewell's favorite insult was to call someone a "New Dealer"–a direct reference to Roosevelt's Depression-era policies.) On December 27, Roosevelt ordered the secretary of war to seize Montgomery Ward's plants and facilities in New York, Michigan, California, Illinois, Colorado and Oregon.
Like the modern day Koch brothers, Avery helped to finance anti-Roosevelt groups and urged Montgomery Ward's shareholders to vote against Roosevelt to end "burdensome and inequitable taxes," which he said were holding back business expansion.
He reportedly yelled, "To hell with the government!" at FDR's Attorney General Francis Biddle, who had flown to Chicago in April 1944 in hopes of placating him. "I want none of your damned advice."
Biddle ordered two National Guardsmen to lift Avery out of his office chair and carry him out of the building. "You … New Dealer!" Avery bellowed.
Photo: Sewell Avery, defiant to the end, is escorted from his office by soldiers (AP/Harry Hall)