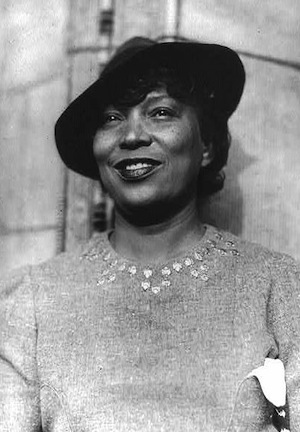 On this day in 1891, Zora Neale Hurston, novelist and folklorist, is born in Eatonville, Fla., writes history.com:
Although at the time of her death in 1960, Hurston had published more books than any other black woman in America, she was unable to capture a mainstream audience in her lifetime, and she died poor and alone in a welfare hotel. Today, she is seen as one of the most important black writers in American history.
Eatonville, Fla., was an all-black town when Hurston was born. The daughter of a Baptist preacher, Hurston had little contact with white people until her mother's death, when Hurston was 11. Until her teens, Hurston was largely sheltered from soul-crushing racism. A talented, energetic young women with a powerful desire to learn, she didn't finish high school but prepared herself for college and excelled at Howard University. In 1925, she moved to New York, where she became a central figure in the Harlem Renaissance. High-spirited, outgoing, and witty, she became famous for her storytelling talents. She studied anthropology with a prominent professor at Barnard and received a fellowship to collect oral histories and folklore in her home state. She also studied voodoo in Haiti.
In 1931, she collaborated with Langston Hughes on the play Mule Bone. Her first novel, Jonah's Gourd Vine, featuring a central character based on her father, was published in 1934. Mules and Men, a collection of material from her research in oral folklore, was published in 1935 and became her bestselling work during her lifetime-but even so, it earned her only $943.75. In 1937, she published Their Eyes Were Watching God, the story of a black woman looking for love and happiness in the South. The book was criticized at the time, especially by black male writers, who condemned Hurston for not taking a political stand and demonstrating the ill effects of racism. Instead, the novel, now considered her masterwork, celebrated the rich tradition of the rural black South. Hurston's work remained uplifting and joyful despite her financial struggles. She published a memoir, Dust Tracks on a Road, in 1942. Hurston worked on and off as a maid near the end of her life, and she died in poverty in 1960. In the 1970s, her work, almost forgotten, was revived by feminist and black-studies scholars, and an anthology, I Love Myself When I Am Laughing…And Then Again When I Am Looking Mean and Impressive, was published in 1979.
ZoraNealHurston.com says:
Hurston influenced such writers as Ralph Ellison, Toni Morrison, Gayle Jones, Alice Walker, and Toni Cade Bambara. In 1975, Ms. Magazine published Alice Walker's essay, "In Search of Zora Neale Hurston" reviving interest in the author.
Valerie Boyd on zoranealehurston.com writes that in 1973 "a young writer named Alice Walker traveled to Fort Pierce to place a marker on the grave of the author who had so inspired her own work. Walker found the Garden of Heavenly Rest, a segregated cemetery at the dead end of North 17th Street, abandoned and overgrown with yellow-flowered weeds.
"As if impelled by those words, Walker bravely entered the snake-infested cemetery where Hurston's remains had been laid to rest. Wading through waist-high weeds, she soon stumbled upon a sunken rectangular patch of ground that she determined to be Hurston's grave. Unable to afford the marker she wanted–a tall, majestic black stone called "Ebony Mist"–Walker chose a plain gray headstone instead. Borrowing from a Jean Toomer poem, she dressed the marker up with a fitting epitaph: 'Zora Neale Hurston: A Genius of the South.'"
Boyd continues:
Back in 1945, Hurston had foreseen the possibility of dying without money–and she'd proposed a solution that would have benefited her and countless others. Writing to W.E.B. Du Bois, whom she called the "Dean of American Negro Artists," Hurston suggested "a cemetery for the illustrious Negro dead" on 100 acres of land in Florida. Citing practical complications, Du Bois wrote a curt reply discounting Hurston's persuasive argument. "Let no Negro celebrity, no matter what financial condition they might be in at death, lie in inconspicuous forgetfulness," she'd urged. "We must assume the responsibility of their graves being known and honored."
Today's Google Doodle honors the American novelist, activist and anthropologist. In 2012, the group, African Americans for Humanism, featured Hurston in their billboard campaign to call attention to a long tradition of atheism and agnosticism in the Black community.
Photo: Zora Neale Hurston via Wikipedia/Library of Congress.