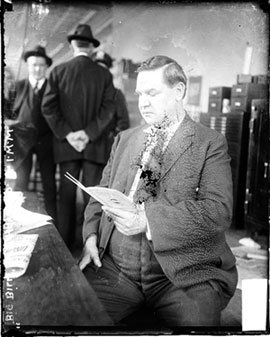 On this day in 1907, union organizer Big Bill Haywood went on trial accused of an explosion that resulted in the death of Frank Steunenberg, a former governor of Idaho. Haywood was a leader of the Industrial Workers of the World (IWW) and the Socialist Party.
The union leader had been indicted on the basis of testimony from Harry Orchard and was defended by Chicago lawyer Clarence Darrow. Orchard had been offered a deal in exchange for false testimony and Haywood won acquittal. During the trial Eugene Debs called him the "Lincoln of labor."
A victim of the Red Scare of 1917, the IWW organizer was arrested and convicted for opposing of first World War and union organizing and sentenced to 20 years in prison. He fled to the young Soviet republic where he remained until his death in 1928.
Photo: Wikipedia