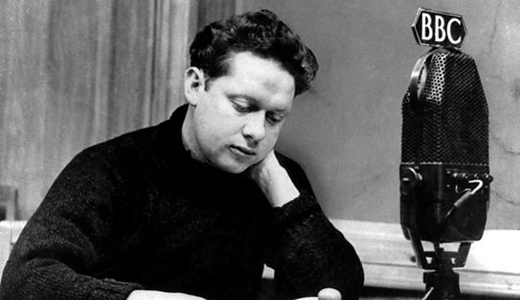 October 27, 2014 marks the centennial of the birth in Swansea, Wales, of world-renowned poet Dylan Thomas. A famous tippler, Thomas died in New York City at the age of 39 in 1953. The singer-songwriter Bob Dylan (originally Robert Allen Zimmerman) assumed his name in tribute to the poet.
Some of Thomas's poems have entered the canon of poetry in the English language. His "Do not go gentle into that good night" has become almost a popular saying, expressing the passion to live large up to the very end. The companion line from that poem that has also found its way into common speech is "Rage, rage against the dying of the light." How many old radicals in retirement homes, now trying to organize the workers there, have embraced this philosophy of militancy into their sunset years!
More than any other single work, Dylan Thomas is known for the 1954 radio drama (performed posthumously, and often staged) Under Milk Wood, which comprises a day in the life of the small fictional Welsh seaside town of Llareggub, with a wide-ranging cast of characters that one might find there. Various professions are represented among its colorful folk: a sea captain and fisherman, the butcher, the barber and herbalist, the barman, cobbler, draper and undertaker, the sweetshop owner, the proprietress of a guesthouse, the schoolteacher, church organist, linoleum salesman, farmer, police constable, postman and preacher. They all have their vivid dreams and fantasies, many libidinous and ecstatic. The play is a warm and tender appreciation of the human spirit, without a false note of sentimentality.