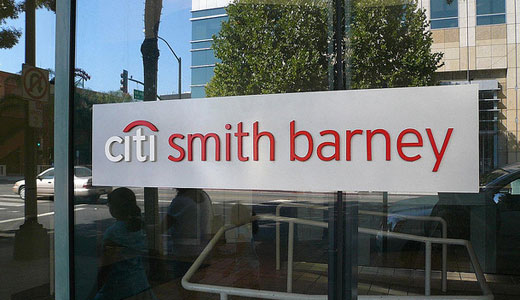 October 9, 1997 – On this day, in retail stock brokerage, Smith Barney reached a multi-million dollar sexual harassment settlement with a group of female employees.
Smith Barney branch managers had been asking female employees to remove their tops in exchange for money. One Smith Barney office featured a "boom boom room" where women workers were told to "entertain" clients.
The company had to pay millions again – $33 million to be exact – in 2008, to finally settle claims from 2,500 female brokers, this time for depriving women of equal pay, access to new accounts, promotions, and access to equal training and sales support.
Citigroup, Smith Barney's parent company also had to appoint a diversity monitor and an "industrial psychologist" for at least four years to oversee changes in the company.
The "boom boom room" itself was a basement room at the Garden City branch, where brokers partied.
The events inspired the writing of a book, "Tales from the Boom-Boom Room: Women vs. Wall Street," by Susan Antilla, who tells in it how bad it was for women wanting to succeed in jobs on Wall Street. In "Tales," Antila follows all the details of the class action lawsuit against Smith Barney.
The book details the disgusting and outrageous behavior women faced every day at this "respectable" brokerage famous for the line: "We made our money the old fashioned way – we earned it."
Lydia Klein, who began as an assistant branch manager, worked her way up the ladder to portfolio adviser of many of the firm's top clients. She nevertheless joined the women filing suit and her experiences are described in the book:
In 1982, two men, a trader and an officer in the municipal bond department – sent Klein a calzone shaped like a penis, with ricotta cheese seeping from a hole in the pastry. The harassment Klein says she experienced was constant and public. The same trader would stare at her breasts and ask, "How are they hanging?"
He approached her at a dinner making lewd remarks as he hung a banana outside his pants zipper. A supervisor would state at her breasts and say, "Oooh, I love them, booby booby boo." A male coworker bit her ankles at work, tearing out patches of her nylons.
A wire operator in Walnut Creek, California, was told she couldn't become a broker because, "Your d*ck isn't hard enough."
According to court documents, a broker in Colorado grumbled about discrimination only to hear her branch manager respond that she couldn't quit "because you are my token bitch."
A broker in New Jersey would arrive at work to a male broker's query as to whether she masturbated in the morning and then washed "that thing" before she got to the office. The same broker took his penis out of his pants in front of female colleagues, put it in his drink at a party, and told them, "it's thirsty."
When women complained within the company they were told the supervisor's behavior was due to a "mid-life crisis" and that they should drop the complaints.
The women didn't drop the complaints and they won their case against Smith Barney, one of the supposedly "respectable" firms on Wall Street.
Photo: Michael Gray/Flickr