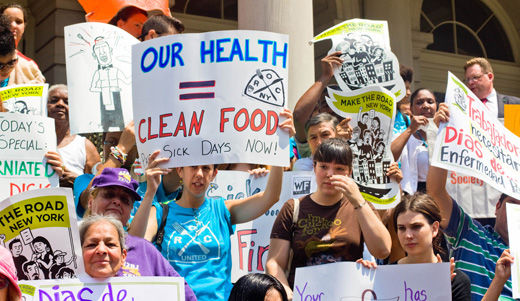 On September 23, 2002, Democratic California Gov. Gray Davis signed legislation making the state the first to offer workers paid family leave.
California's landmark Paid Family Leave (PFL) program has produced substantial "economic, social, and health" gains for workers and their families. It has had "an equalizing effect" regarding gender, racial and income disparity. And, it did not turn out to be the "job-killer," costly and easily abused program the business community claimed when it was fighting the now six-year-old program before it became law.
These are the conclusions of a study released in January 2011, by co-authors Eileen Appelbaum, senior economist at the Center for Economic Policy and Research, and Ruth Milkman, professor of sociology at the University of California in Los Angeles and City University of New York.
California is the first of two states to offer paid family-leave, New Jersey is the other.
The California program allows private-sector workers to take up to six weeks a year off at 55 percent of wages to care for a newborn, a newly adopted child or a sick family member. The federal Family and Medical Leave Act (FMLA) law allows up to 12 weeks off, but it is unpaid.
In comparison with workers not utilizing PLF, those using the program were able to greatly increase the amount of wages replaced while on leave, took longer leaves, and were more satisfied with the length of their leaves.
On May 8, 2013, by a 45-3 margin, the New York City Council passed a bill mandating paid sick or family leave for millions of workers in thousands of businesses in the Big Apple. The margin can override any threatened mayoral veto.
The victory elated both women's groups and the New York City Central Labor Council. Both lobbied strongly for the legislation.
Three interests that hate workers are the backbone of the opposition to paid sick leave: The National Federation of Independent Business (NFIB), the National Restaurant Association, and the business-funded secretive radical right cabal, the American Legislative Exchange Council (ALEC).
Photo: nycforpaidsickdays.org