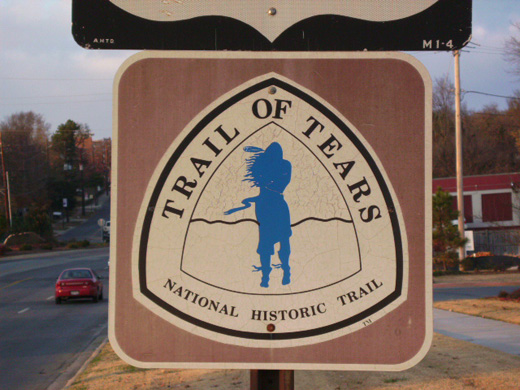 On this day in 1838 the Cherokee Native American nation began the infamous "Trail of Tears" the name given to genocidal forced removal from their lands.
The Indian Removal Act was signed into law by President Andrew Jackson in 1830, authorizing the president to grant unsettled lands west of the Mississippi in exchange for Indian lands within existing state borders. Many resisted the relocation policy.
Jackson was arrogant, violent tempered and pro-slavery. His detractors called him "King Andrew I." But the worst national memory of Jackson is his brutal expulsion of the "Five Civilized Tribes" from their homeland in the southeastern U.S., a traumatic migration in which thousands died from exhaustion, exposure and hunger. These tribes – the Cherokee, Muskogee, Chickasaw, Choctaw and Seminole – had done nothing to merit this rough treatment except that they possessed land which some white people, Jackson's people, wanted. So Jackson drove them out, to Oklahoma.
In 1835, gold had been discovered on Georgia Cherokee land; the state demanded they cede land; they refused. When the Supreme Court declared the State of Georgia's initial expulsion of the Cherokees to be unconstitutional, Jackson shouted "[Chief Justice] John Marshall has made his decision, now let him enforce it!" Then he used his federal authority to kick out all five tribes.
It is estimated that nearly one third – ten to 30 percent – died in the course of U.S. government's ethnic cleansing.
Photo: Trail of tears sign, Yam Nahar. Public Domain,