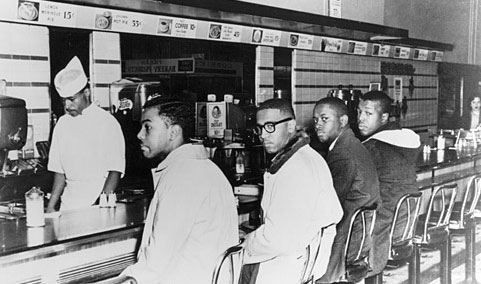 Today in labor history, on June 8, 1953, restaurants in the nation's capital that banned African-American patrons were outlawed. The ruling also declared that, for the first time in Washington D.C., all public housing units become available to any "respectable, well-behaved citizen," regardless of ethnicity.
This started out in 1952, as a quiet campaign to end intolerance, during a time when there were many pro-segregation laws in place in Washington. For example, just 10 percent of the police force was African-American, and of that percentage, none of them were allowed to ride in the same patrol cars with white officers. And out of the city's 45 fire companies, just five of those had black workers.
Things changed when D.C. attorneys managed to resurrect some old laws that had never been repealed (some dating back to 1872), one of which said that public restaurants and other businesses could not refuse to serve patrons, so long as they were "respectable and well mannered."
It was on June 8, 1953 that the tide turned in favor of racial equality, and the prejudicial policies of Washington restaurants were expressly forbidden. This meant that every workingclass individual – whether black or white – could now enjoy a public meal in the District of Columbia.
Photo: Eight years after the Washington ordinance, students in Greensboro, N.C. sat in at the Woolworth lunch counter to demand integration of that restaurant. Thus, they launched a movement that resulted in the integration of facilities throughout the South. American History.edu