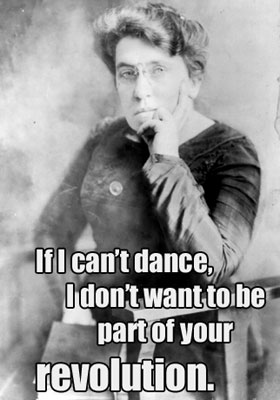 1833 Prudence Crandall, a white woman, is arrested for conducting an academy for black women in Canterbury, Conn.
1869 Women's rights activist and anarchist Emma Goldman was born in Lithuania. She came to the United States when she was 17.
1872 Paul Laurence Dunbar, African-American poet and writer, was born in Dayton, Ohio.
1880 Helen Keller was born in Tuscumbia, Ala. She embraced left and socialist causes, campaigning for peace, women's and labor rights; she was a member of the Socialist Party and IWW.
1905 The Industrial Workers of the World, also known as the "Wobblies," is founded at a 12-days-long convention in Chicago. The Wobblie motto: "An injury to one is an injury to all."
1935 Congress passes the National Labor Relations Act, creating the structure for collective bargaining in the United States
1985 A 26-day strike of New York City hotels by 26,000 workers – the first such walkout in 50 years – ends with a five-year contract calling for big wage and benefit gains
1993 A.E. Staley locks out 763 workers in Decatur, Ill. The lockout was to last two and one-half years. "We want to work to live, not live to work," the workers would chant on the picket line.