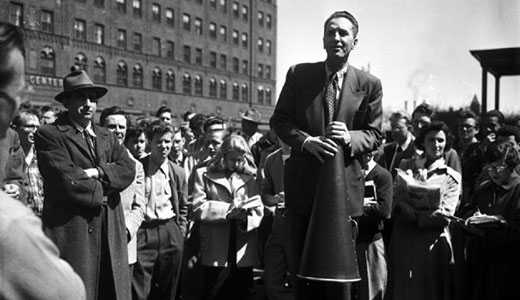 On this day in 1907, trade unionist Farrell Dobbs was born in Queen City, Missouri. Dobbs first became a pro-labor activist after witnessing the plight of workers during the Great Depression in the 1930s. In 1933, he joined the Teamsters while working for the Pittsburgh Coal Company in Minneapolis.
He worked full-time as a union organizer and helped organize the Minneapolis General Strike of 1934, on which he later wrote four books. He also served as an advisor to a young Jimmy Hoffa.
In 1960, he traveled to Cuba to experience the movement there, subsequently supporting the Cuban Revolution and the leadership of Fidel Castro and Che Guevara.
He was a member of the Socialist Workers Party, and so remained until his death in 1983.
Photo: Dobbs (center-right) at a demonstration.