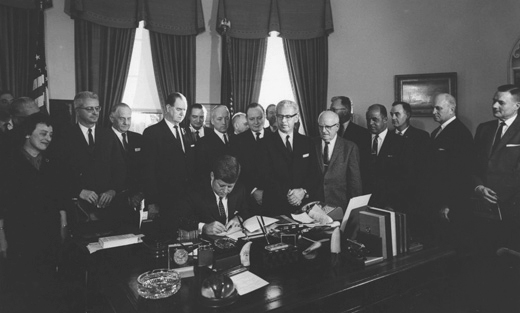 On January 17, 1962, President John Kennedy signs Executive Order 10988, recognizing the right of federal employees to bargain collectively.
The order was a breakthrough for public sector workers, who were not protected under the 1935 Wagner Act. The National Labor Relations Act (NLRA) was popularly called the "Wagner Act" after its author, New York Senator Robert Wagner. That federal legislation guaranteed workers in private industry the right to organize and join labor movements, to choose representatives, bargain collectively and strike.
At the time the Wagner act was signed, industrial and manufacturing workers were the major force in union organizing. Today public sector workers are leading many of the economic struggles while fighting attacks from ultra-right Republicans.
Of the 1.75 million people employed by the federal government, only 250,000 are based in the Washington, D.C., metropolitan area. The majority work in federal offices across the nation as police officers, mechanics, lawyers, correctional officers, environmentalists, nurses, mine inspectors and more.
Unions representing federal workers today:
The American Federation of Government Employees (AFGE) is the largest federal employee union representing 650,000 federal and D.C. government workers nationwide and overseas. AFGE has been nationally affiliated with the AFL-CIO since AFGE was founded in 1932.
The National Federation of Federal Employees (NFFE) is a national union representing approximately 110,000 blue and white collar government workers across the United States. Ratifying its constitution on September 17, 1917, NFFE is the oldest union representing federal employees. They are affiliated with the International Association of Machinists and Aerospace Workers, AFL-CIO.
The National Treasury Employees Union (NTEU) has grown to represent some 150,000 bargaining unit employees in 31 federal agencies and departments in Washington, D.C., and seven field offices across the nation.
Postal workers are fighting the attacks on the postal service in close collaboration: the National Association of Letter Carriers, the American Postal Workers Union, the National Postal Mailhandlers Union and the National Rural Letter Carriers Association.
Photo: Kennedy signs Executive Order 10988. Tumblr.