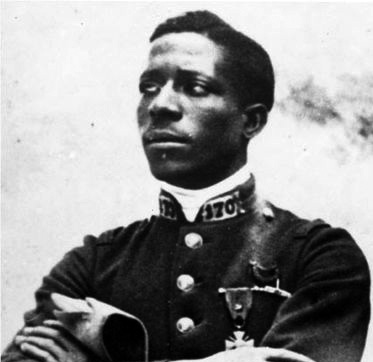 On this day in 1994, Eugene Bullard, the first African-American military pilot, and one of only two black combat pilots in World War I, was posthumously commissioned as Second Lieutenant in the U.S. Air Force. The recognition came 33 years after his death.
Bullard was born in Columbus, Georgia on October 9, 1895. After witnessing his father's narrow escape from being lynched, he sought to escape racial discrimination by stowing away on a ship destined for Scotland. From there, he traveled to England, where he became a boxer and worked in a music hall. Years later, he settled in Paris, France.
On October 19, 1914, Bullard enlisted in the 1st Regiment of the French Foreign Legion as a machine gunner. Later, Bullard was among the Americans allowed to transfer to the 107th Line Infantry Regiment, where he took part in the Battle of Verdun.
In 1916, he volunteered to join the French Air Service as an air gunner. He was promoted to the rank of corporal one year later. He took part in many combat missions and reportedly shot down several German aircraft.
When the U.S. entered the war, its Army Air Service began recruiting some of those American pilots. Bullard went through the mandatory preliminary medical examination, but was rejected because only white pilots were allowed to serve. He was eventually discharged altogether in 1919.
He then returned to Paris, where he worked as a drummer and nightclub manager, married, and had children. He later fled with his two daughters in May 1940 during the German invasion of France. He volunteered with the 51st Infantry and defended the city of Orléans. In July of that year, he returned to the United States, where he remained until dying of stomach cancer on October 12, 1961.
He and his efforts in World War I were portrayed in the 2006 film Flyboys.
Photo: Wikipedia (CC)