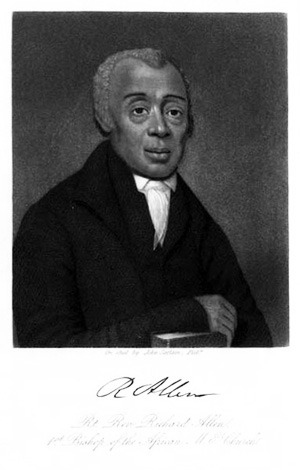 On August 20, 1830 the National Negro Convention held its first meeting in Philadelphia. The event was chaired and led by Bishop Richard Allen. It marked the first national meeting of people of African descent in the U.S.; 40 delegates attended the meeting.
The convention movement lasted until 1864 and was sparked in part by efforts, including riots, to expel black workers from Cincinnati because of competition with white workers for jobs.
Another feature of the convention movement was the proposal of emigration as a solution to problem of racism. Allen, after the first meet head a group called the "American Society of Free People of Colour for improving their condition in the United States; for purchasing lands; and for the establishment of a settlement in the Province of Canada." Allen opposed emigration to Africa.
Still another trend was named "American Society of Free Persons of Labor."
As the movement and activists worked with white abolitionists to defeat slavery, an intense debate emerged between advocates of moral argument versus advocates of political action. Frederick Douglass argued for both.
Richard Allen died in 1831.
Photo: Richard Allen, from the frontispiece of History of the African Methodist Episcopal Church (1891) by Daniel A. Payne. Wikimedia Commons.