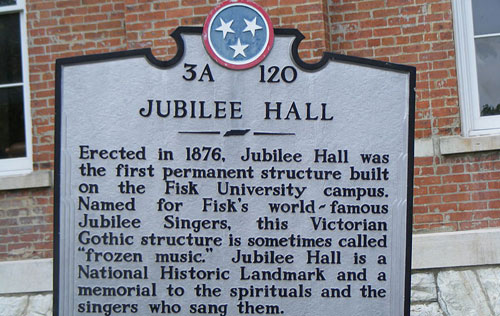 On Aug. 22, 1867, Fisk University, one of the nation's most famous historically black colleges, was formally incorporated.
Fisk got its start just months after the end of the Civil War, and just two years after the Emancipation Proclamation. That is when three men – John Ogden, the Rev. Erastus Milo Cravath, and the Rev, Edward P. Smith – established the Fisk School in Nashville. The school was named in honor of General Clinton B. Fisk of the Tennessee Freedmen's Bureau, who provided the new school with facilities in former Union Army barracks. Fisk convened its first classes there on Jan, 9, 1866.
The first students ranged in age from seven to 70, but shared common experiences of slavery and poverty – and a thirst for learning.
The work of Fisk's founders was sponsored by the American Missionary Association – later part of the United Church of Christ, with which Fisk retains an affiliation today. Its founders shared a dream of an educational institution that would be open to all, regardless of race, and that would measure itself by "the highest standards, not of Negro education, but of American education at its best."
Fisk's world-famous Jubilee Singers originated as a group of students who set out from Nashville in 1871, taking the entire contents of the university treasury with them for travel expenses, hoping to raise enough money through their singing to keep the doors of their debt-ridden school open. After initial struggles, the singers became a huge national and international success. They introduced much of the world to the spiritual as a musical genre. With some of the funds they raised, Jubilee Hall, the South's first permanent structure built for the education of black students, was constructed on Fisk's campus in 1876. It is a now a National Historical Landmark.
Fisk's many famous alumni include W.E.B. DuBois, class of 1888, as well as historian John Hope Franklin, poets Nikki Giovanni and James Weldon Johnson, and Congressman John Lewis.
Ishmael Flory, later a leader of the Communist Party USA, was expelled from a master's program at Fisk in the 1930s because he organized a protest against the university singers performing in a segregated Nashville theater, where, as Langston Hughes wrote, "colored people must go up a back alley to sit in the gallery."
Photo: Wikimedia Commons