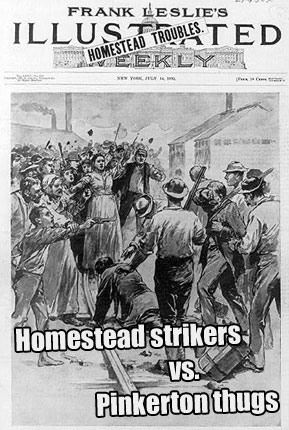 On July 6, 1892, under the cover of darkness, two barges, loaded with armed Pinkerton thugs hired by the Carnegie Steel Co., landed on the south bank of the Monongahela River in Homestead, Penn., seeking to occupy Carnegie Steel Works and put down a strike of 3,000 steel workers.
Yet workers spotted the strikebreakers and began to alert strikers, their families and the townspeople. A Pittsburgh journalist wrote that at about 3 a.m. a "horseman riding at breakneck speed dashed into the streets of Homestead giving the alarm as he sped along." Thousands of strikers and their sympathizers rose from their sleep and went down to the riverbank in Homestead.
The striking workers and their families fought the 300 Pinkertons in a 12-hour gun battle. In all, seven steelworkers and three Pinkertons were killed.
After the short-lived but bloody victory, the governor of Pennsylvania, siding with Carnegie, ordered in the state militia to occupy the plant and protect scabs brought in by train. Strike leaders were charged with murder and strike committee members charged with treason. None were convicted. But all strikers were blacklisted. It stripped the façade of Andrew Carnegie as a benevolent boss.
Despite the crushing of the union, the Homestead steel strike would prove to be one of the most pivotal moments in the history of the U.S. labor movement.
Photo: Drawing for Illustrated Weekly: "The labor troubles at Homestead, Pa. – Attack of the strikers and their sympathizers on the surrendered Pinkerton men," 1892. Prints and Photographs Division, Library of Congress. Reproduction Number LC-USZ62-75205.