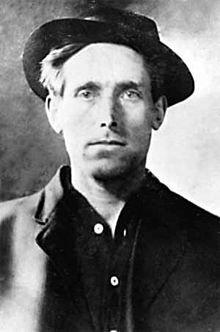 On this day, one hundred years ago, the legendary working-class troubadour Joe Hill. a 33-year-old Swedish immigrant, was executed by a firing squad in the prison yard of the Utah State Penitentiary. He'd been accused on circumstantial evidence of killing a Salt Lake City grocer. Hill's trial was an international causecélèbre, with even President Woodrow Wilson calling for clemency. But the mining bosses were looking for a union activist scapegoat, so he was convicted and shot.
Joe Hill was a militant with the Industrial Workers of the World. The union arranged for his body to be transported to Chicago for the funeral, which was attended by 30,000 mourners. Conveniently, the bulk of the court records of his trial disappeared. It took until 2011 to establish conclusive proof of his innocence (see William M. Adler's 2011 book The Man Who Never Died). Joe Hill's transcendent spirit and stirring songs have been embraced by working people everywhere. "The Preacher and the Slave," "Casey Jones," "Where the Fraser River Flows," and "There is Power in a Union" are just a few of his many enduring songs.
In many places there will be observations of the centenary of Joe's death. Just a few samples:
In Toronto, at the Hirut Restaurant, 2050 Danforth Avenue, on Thurs., Nov. 19 at 7:30 pm. Call 416-556-3513 for more information.
The Joe Hill Centenary with Ross Altman & Friends will take place on Fri., Nov. 20 at 8 pm at Beyond Baroque, 681 Venice Blvd., Venice, Calif. Ross reaches all the way back to the Little Red Songbook, firstpublished in 1910 and never out of print since, to celebrate the music of Joe Hill and the singing Wobblies, the IWW – whose anthem "Solidarity Forever" by Ralph Chaplin is also in its Centennial year. Ross brings to life some of the most colorful characters ever to walk the stage of the American labor movement, including one-eyed silver miner Big Bill Haywood, Rebel Girl Elizabeth Gurley Flynn, and of course the bard JoeHill himself. General admission $10, students &seniors $6, Members of Beyond Baroque free.
Voices of Conscience, the social justice chorus of Arbeter Ring/Workmen's Circle SoCal, will offer a special Joe Hilll concert on Sun., Nov. 22, at 2 pm. 1525 S. Robertson Blvd., Los Angeles. Featured performers will be Joanna Cazden, Uncle Ruthie Buell, Eric Gordon, and Ruth Judkowitz. Cosponsored by Jewish Labor Committee Western Region and L.A. Laborfest. Admission: $12 suggested (no one turned away). For further info: (310) 552.2007 or circle@circlesocal.org. Included in the concert will be a musical setting by Ethel Raim of Joe Hill's last poem:
My will is easy to decide,
For there is nothing to divide.
My kin don't need to fuss and moan,
"Moss does not cling to a rolling stone."
My body? Oh, if I could choose
I would to ashes it reduce,
And let the merry breezes blow,
My dust to where some flowers grow.
Perhaps some fading flower then
Would come to life and bloom again.
This is my Last and Final Will.
Good luck to all of you,
Joe Hill.
For a great Phil Ochs song, click here: https://www.youtube.com/watch?v=ZwKdRodMpWY
Sources: Wally Brooker, "Music Notes for People's Voice," Wikipedia. Click on this site for info about the traveling Joe Hill roadshow: https://www.facebook.com/The-Joe-Hill-Roadshow-joehill100-426997447452407/
Photo: Wikipedia (CC)