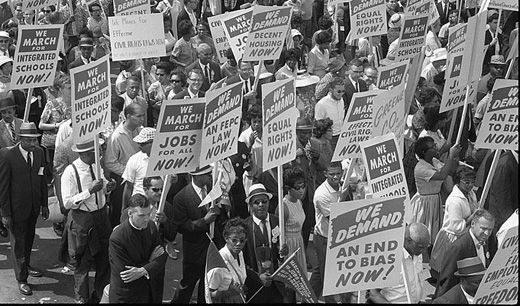 Traveling by road, rail, and air, from literally near and far, a quarter of a million people arrived in Washington D.C. on Wednesday, August 28, 1963. Marchers from Boston traveled overnight and arrived in Washington at 7 a.m. after an eight-hour trip, but others took much longer bus rides from places like Milwaukee, Little Rock, and St. Louis. Organizers persuaded New York's MTA to run extra subway trains after midnight on August 28, and the New York City bus terminal was busy throughout the night with peak crowds. A total of 450 buses left New York City from Harlem. Maryland police reported, "By 8 a.m., 100 buses an hour were streaming through the Baltimore Harbor Tunnel."
Marian Anderson was scheduled to lead the National Anthem but was unable to arrive on time; Camilla Williams performed in her place. Following an invocation by Archbishop Patrick O'Boyle, the opening remarks were given by march director, labor and civil rights activist A. Philip Randolph, followed by Eugene Carson Blake. A tribute to "Negro Women Fighters for Freedom" was then led by Bayard Rustin (substituting for the absent Myrlie Evers), who introduced Daisy Bates, Diane Nash, Prince E. Lee, Rosa Parks, and Gloria Richardson. The following speakers were SNCC (Student Nonviolent Coordinating Committee) chairman John Lewis, labor leader Walter Reuther and CORE chairman Floyd McKissick (substituting for arrested CORE director James Farmer). The Eva Jessye Choir then sang, and Rabbi Uri Miller (president of the Synagogue Council of America) offered a prayer, followed by National Urban League director Whitney Young, NCCIJ director Mathew Ahmann, and NAACP leader Roy Wilkins. After a performance by singer Mahalia Jackson, American Jewish Congress president Joachim Prinz spoke, followed by SCLC president Martin Luther King, Jr.
Rustin then read the march's official demands for the crowd's approval, and Randolph led the crowd in a pledge to continue working for the march's goals. The program was closed with a benediction by Morehouse College president Benjamin Mays.
Although one of the officially stated purposes of the march was to support the civil rights bill introduced by the Kennedy Administration, several of the speakers criticized the proposed law as insufficient, this despite the fact that two government agents stood by to cut power to the microphone.
The March is credited with creating political momentum for the Civil Rights Act of 1964 and the Voting Rights Act of 1965. Kennedy was assassinated November 22, 1963, so Lyndon Johnson actually signed these into law. The Supreme Court today gutted the landmark Voting Rights Act of 1965 by a 5-to-4 decision on June 25, 2013. Outrageously, Chief Justice John Roberts trampled the legacy of King and the civil rights movement by citing Selma, Ala., and Philadelphia, Miss., where blood was spilled to uphold the right to vote, in his majority opinion discarding a crucial section of the Voting Rights.
The mass media identified King's "I Have a Dream" speech as a highlight of the event and focused on this oration to the exclusion of other aspects. In the years following the March, some in the civil rights movement identified with Malcolm X's comment on the March as a co-optation by the white establishment. Probably both liberals and conservatives supported some aspects of March, but focused mostly on and the legislative successes of 1964 and 1965. More recently, historians and commentators have acknowledged the pivotal role played by Bayard Rustin in organizing the event.
Soon after the speakers ended their meetings with Congress to go join the March, both houses passed legislation to create a dispute arbitration board for striking railroad workers.
An assassin's bullet felled the Rev. Martin Luther King, Jr. on April 4, 1968. King had come to Memphis to support a strike by the city's sanitation workers.
Wikipedia contributed to this article.
Photo: "Demonstrators marching in the street holding signs during the March on Washington, 1963."