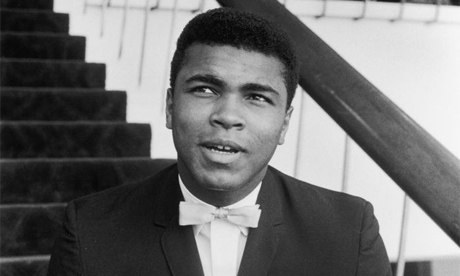 On May 8, 1967, A federal grand jury indicted Muhammad Ali for refusing to be inducted into the armed forces. In 1964, Ali failed the U.S. Armed Forces Qualifying Test because his writing and spelling skills were sub-par (he was quoted as saying, "I said I was the greatest, not the smartest!")
However, in early 1966, the tests were revised and Ali was reclassified as 1A. When notified of this status, Ali declared that he would refuse to serve in the Army and publicly considered himself a conscientious objector. Ali stated: "War is against the teachings of the Holy Qur'an. I'm not trying to dodge the draft. We are not supposed to take part in wars unless declared by Allah or The Messenger. We don't take part in Christian wars or wars of any unbelievers." More succinctly and famously he said, "I ain't got no quarrel with them Viet Cong," words that articulated, for a generation of young Americans, a reason to oppose the war.
At the trial on June 20, 1967, after only 21 minutes of deliberation, the jury found Ali guilty. After a Court of Appeals upheld the conviction, the case went to the U.S. Supreme Court which unanimously overturned his conviction.
Ali helped inspire Martin Luther King, Jr., who had to convince some in the civil rights movement who were fearful that addressing the war in Vietnam could alienate President Johnson whose support for historic civil rights legislation was so crucial.
In speaking of the cost on Ali's career of his refusal to be drafted, his trainer Angelo Dundee said, "One thing must be taken into account when talking about Ali: He was robbed of his best years, his prime years."