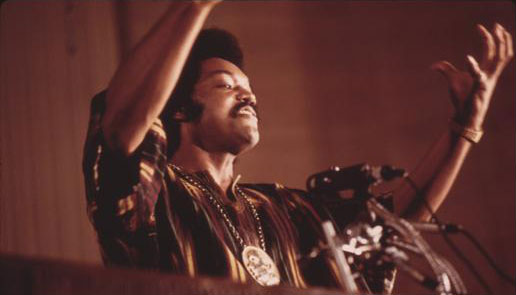 On December 18, 1971 Operation PUSH, an acronym for People United to Save (later Serve) Humanity was founded, as an organization which advocated black self-help and achieved a broad audience for its progressive stances on issues of social justice.
Eventually the organization was able to expand into areas of social and political development for blacks in Chicago and across the nation.
The 1970s saw various tactics used to pursue Operation PUSH 's objectives including direct action campaigns, weekly radio broadcasts, and awards through which Rev. Jesse Jackson, the founder, and his new organization supported black homeowners, workers, and businesses, and honored prominent blacks in the U.S. and abroad.
Operation PUSH was concerned with minority youth reading, and it championed education through PUSH-Excel, a spin-off program that emphasized keeping inner-city youths in school while assisting them with job placement. The program, which persuaded inner city youth to pledge in writing to study two hours per night and which involves parental monitoring, impressed President Carter, whose administration became a large sponsor after Secretary of Health, Education, and Welfare Joseph Califano and Secretary of Labor Ray Marshall courted Jackson.
They were very successful at committing major corporations with large presences in the black community to adopt affirmative action programs in which they hired more black executives and supervisors and to buy from black suppliers, wholesalers, and distributors. Operation PUSH employed prayer vigils as a technique to call attention to issues.
Operation PUSH staged several boycotts including early 1980s boycotts of Anheuser Busch and Coca Cola as well as a 1986 boycott of CBS television affiliates. The boycotts became so well known that at one point David Duke supporters referred to a boycott of Nike, Inc. as if whites were being oppressed by blacks. Nike spokesperson, Michael Jordan, disavowed the Nike boycott. The boycotts of Budweiser, and Coke as well as one against Kentucky Fried Chicken were touted for having won minority job concessions from white businesses.
Wikipedia Contributed to this article