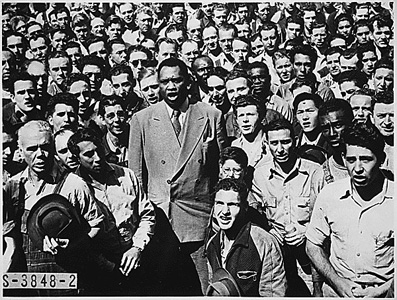 On August 16, 1955, internationally known actor, singer and activist Paul Robeson lost his court appeal to force the U.S. State Department to grant him a passport.
Paul Robeson was born April 8, 1898. Robeson was the most famous African American artist in the world, renowned for his work on Broadway, in films, and his powerful bass-baritone voice. Robeson utilized his talents to advocate for civil rights in the United States. Despite having to face brutal racism, Robeson was the valedictorian and graduated Phi Beta Kappa from Rutgers University, won 15 varsity letters in baseball, basketball, track, and was twice named to the All American Football Team. Robeson went on to graduate from Columbia Law School in 1923. After a racist incident at a law firm, he decided to leave the practice and use his artistic talents in theater and music to promote African American history and culture. He traveled the world extensively.
During his time abroad, Robeson was impressed with the building of socialism in the Soviet Union, particularly its very public disavowals of racism and discrimination. During World War II, when the United States was allied with the Soviet Union against Hitler fascism, Robeson gave numerous performances to U.S. troops around the world. After WWII, U.S foreign policy shifted into the "Cold War" era, Robeson's very public statements in support of the Soviet Union began to cause problems.
In 1950, he attempted to renew his passport so that he could travel abroad to fulfill contracts for singing and acting performances. The State Department insisted that Robeson sign a "loyalty oath." Robeson refused and filed suit in federal court, telling reporters, "Of course I won't sign it. I consider it an invasion of every constitutional liberty I have."
In August 1955, a federal judge ruled that the State Department was within its legal rights to refuse Robeson a passport. After the decision, Robeson declared that it was "rather absurd" that he was not "allowed to travel because of my friendship – open, spoken friendship-for the Soviet people and the peoples of all the world."
In 1958, Robeson finally won his court case and his passport was grudgingly restored. But great damage had been done to Robeson's career by the long delay. He performed for a few more years, and then retired, although the FBI kept up its investigations of Robeson until his death on January 23, 1976.
Ironically, soon after the turn of the century, Robeson's fame was carried throughout the nation by a beautiful 37-cent postage stamp bearing his portrait and calling him "an incomparable artist and singer, human rights advocate, scholar and athlete, defender of Black freedom."
Many events were held in 1998 on the 100th anniversary of his birth. Calling Robeson "a great fighter for equality and world peace, a genius who gave his heart and soul to the people," Jarvis Tyner, executive vice chair of the Communist Party USA, said he "embraced the need for a socialist transformation of society, for unity of black, brown and white."
Photo: Paul Robeson, world famous baritone, leads Moore Shipyard workers of Oakland, Calif., in singing the Star Spangled Banner, at their lunch hour in September 1942. Afterward he told them: "This is a serious job – winning this war against fascists. We have to be together." (Still Picture Records Section, Special Media Archives Services Division NWCS-S, National Archives at College Park, Md.)